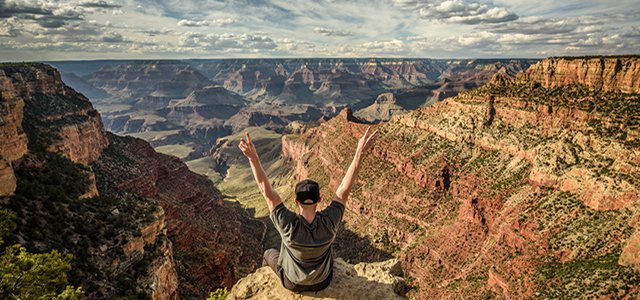 How to Book an Epic Grand Canyon Trip
One of the most famous natural wonders of the world, Arizona's Grand Canyon National Park, is an absolute MUST on anyone's bucket list. With almost two billion years of geological history, the Canyon is a UNESCO World Heritage Site and attracts on average 5 million visitors each year. At 227 miles long, 18 miles wide and over 6,000 feet deep, the Canyon is carved by the Colorado River and is split into four different sectors. This guide will help you to make the most out of your time in the Canyon and will share some top visitor tips along the way!
Photo Credit: © iStock/egumeny
Choose Your Accommodation Carefully
If you only have limited time to explore, booking your accommodation as close to the Canyon as possible is going to be crucial in terms of making the most out of your stay. There are accommodation options within the site itself, with different 'villages' at each of the four areas of the Canyon; North Rim, South Rim and East and West. Each village is home to log cabins or lodges and most have souvenir shops, restaurants/cafés and a bar along with laundry facilities and washrooms. There are also numerous camping sites scattered around the park if you want to get close to nature! The big advantage to staying onsite is that you're super close to the Canyon itself and are right in the heart of the action! There are also free shuttle buses that run frequently all day taking you from stop to stop and allowing you to explore different routes of the National Park.
The only downside to staying onsite is that you're a little limited in terms of things to do in the evenings – the bars don't stay open late and you'll be lucky if you can get reception on your phone. But sometimes it's nice to embrace nature and enjoy being in the center of one the natural wonders of the world! If you're not keen to stay onsite, you could always stay a little further out and travel in each day to the Canyon. The nearby towns of Tusayan and Vale are just seven miles and 22 miles from the South Rim respectively, and both offer a range of hotels with onsite swimming pools, bars, restaurants and evening entertainment. There's plenty of parking once you get to the Canyon, or you could look into local transportation options, such as taxis or coach tours, from the towns instead.
Book Your Excursions in Advance
There are so many things to see and do in the Canyon, especially if you're adventurous and not afraid to put your walking boots on! From bike riding and extreme hiking to jeep tours and river rafting, there's something for everyone. Due to extreme popularity and limited spaces, it's recommended that you book your excursions in advance online using the official website so that you're guaranteed a place on your chosen activity. This also helps to plan your time at the Canyon, and you can work around your activities accordingly. Biking is a popular choice for the morning, when the climate isn't as hot, and people often take the free shuttle buses around each of the four sectors during the afternoon heat, when the sun is at its hottest.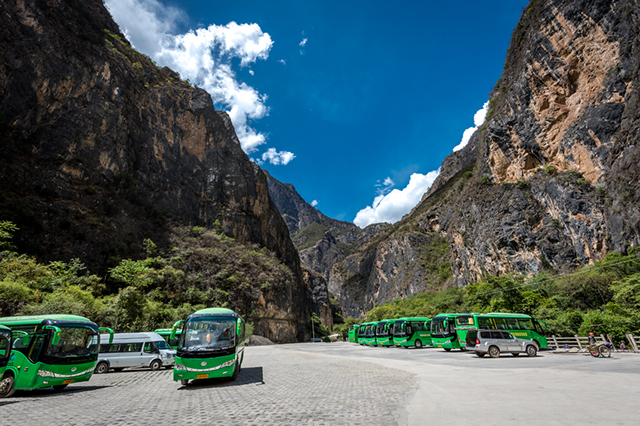 Photo Credit: © iStock/nok6716
Probably the most popular excursion for visitors is an epic helicopter ride across the Canyon – it's one of those real bucket list items and what better place to view the Canyon than from high up in the air?! For stunning aerial views, the helicopter ride shows the Canyon from almost every angle possible and will totally take your breath away! A helicopter ride is an absolute MUST when visiting this National Park!

Photo Credit: © iStock/~UserGI15633490
Rise and Shine! Wake Up Early and Watch the Sun Rise
If you're staying on site, you'll definitely be able to take advantage of this. Staying close to the South Rim enables you to see the most stunning sunrise – it's well worth the 4:30 a.m. wake up! Obviously the times will differ depending on the season, but during the summer months the sun rises at around 5:45 a.m. and around 6:15 a.m. during the winter. It's recommended to wake an hour or so before this so you can plan the best place for photo ops and give yourself enough time to get to the spot of your choice.
If you're staying at one of the onsite lodges, head towards Hopi Point, Yavapai Point or Mather Point for a fantastic spot. Depending on where you're staying, you'll have a good few kilometers to walk before you find the perfect spot, but once you're there you can set your tripod up and wait for that magical moment when the light starts to shine and the air starts to warm up. Watching a Grand Canyon sunrise is truly special and yet another thing to tick off your bucket list whilst you're in Arizona!
Take a Picnic and Watch the Sun Set at Hopi Point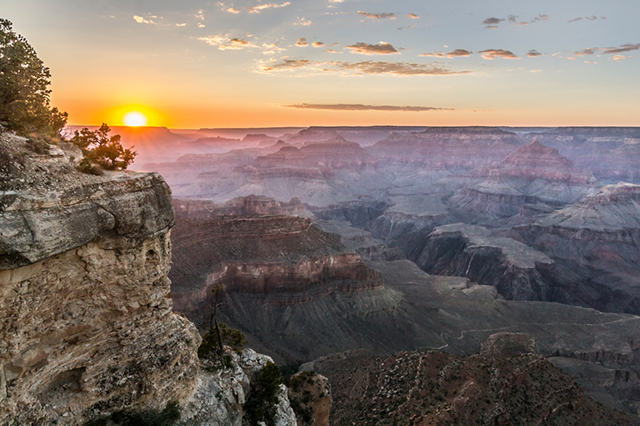 Photo Credit: © iStock/chrisinthai
At the other end of the spectrum, watching the sun set over the Grand Canyon is equally as incredible as watching it rise! Something really changes in the air once the sun has set; the temperature drops dramatically, the atmosphere is almost eerie, and it feels as if there's no one around for miles. Make your own picnic, stock up on food at one of the market plazas, and head towards Hopi Point for an epic sunset feast. During the summer months the sun sets at around 7:30 p.m. and around 6:30 p.m. during the winter. Hopi Point offers panoramic views as far as the eye can see across the Canyon. Watch Out for the Wildlife
You'll find tons of wildlife dotted around the National Park; from elks and deer to squirrels and raccoons, there are a variety of animals wandering around both day and night. It's not uncommon to spot bald eagles and peregrine falcons flying high above the Canyon, whilst sightings of mountain lions and coyotes are slightly rarer. There's also been sightings of rattle snakes, lizards, scorpions and even black widow spiders at the Canyon – there's wildlife lurking at every corner and it's a nature lovers' paradise! Tourists flock to the Canyon for the incredible views, but the wonderful array of wildlife that can be spotted onsite is also a major attraction for visitors.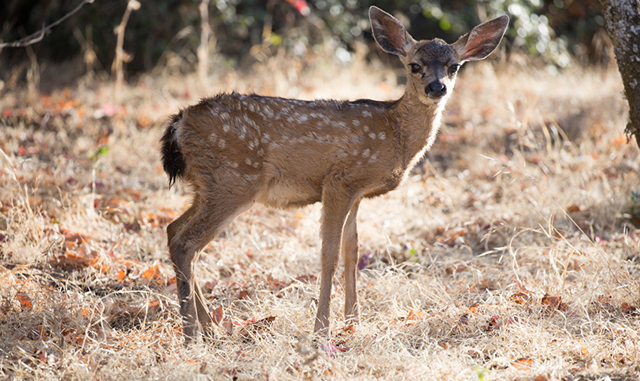 Photo Credit: © iStock/yhelfman
You're Ready to Visit the Grand Canyon
Now that you've read through the hints and tips on this guide you should be ready to visit the Grand Canyon and navigate yourself around this incredible National Park. You really need a good few days to explore each of the four sectors, and even then you still probably won't see it all – the Canyon is just so huge! Staff are on hand to help with hiking guides and excursion timings, but embrace your wild side and go off and explore as much of the Canyon as you possibly can – you certainly won't regret it! No journey to the States is complete without ticking this incredible place off your bucket list.
Main Image Photo Credit: © iStock/miroslav_1
About the Author: Jess is a 22 year old travel-obsessive, always planning her next adventure! She loves ticking iconic landmarks off her bucket list and has a particular passion for fun filled European city breaks. Follow her latest news over on her travel blog 'Journeys with Jessica.'
Featured Vendor

Get Hertz Discounts
Subscribe to Our Blog!
Like Us On Facebook