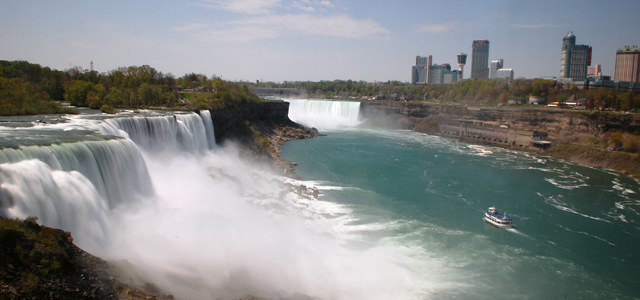 Hotel Review: Wingate by Wyndham Niagara Falls, New York
On a recent trip to Niagara Falls, travel writer Cheryl Rodewig stayed at the Wingate by Wyndham Niagara Falls hotel. Here's her take on the experience.
A trip to Niagara Falls, New York, was a bucket list dream of mine, and I wanted every part of it to be perfect. That meant finding the right home base for my stay. And I found it at the
Wingate by Wyndham Niagara Falls
.
This hotel was made with tourists in mind.
Settled just two blocks from Niagara Falls State Park, the Wingate has a prime location. It's an easy five-minute stroll to the visitor center and just down the street from the Seneca Niagara Casino. The area is perfectly safe to walk around, even at night and fairly quiet. The front desk staff is friendly and happy to help you get your bearings in the area. They gave me a free map when I checked in and the scoop on what times to go see the falls lit up at night as well as the best vantage points. It was like having my own personal destination expert to welcome me to the area. They also offer ticket assistance for a guided local tour.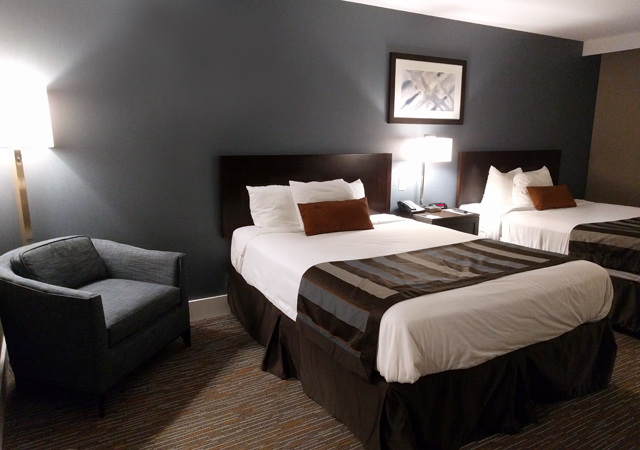 The room was comfortable with plenty of space to stretch out, a welcome sight after my seven-hour drive to get there. Decor is contemporary, with abstract art above the bed and a frameless mirror lit from behind in the bathroom. It gave me the impression that it had been updated recently.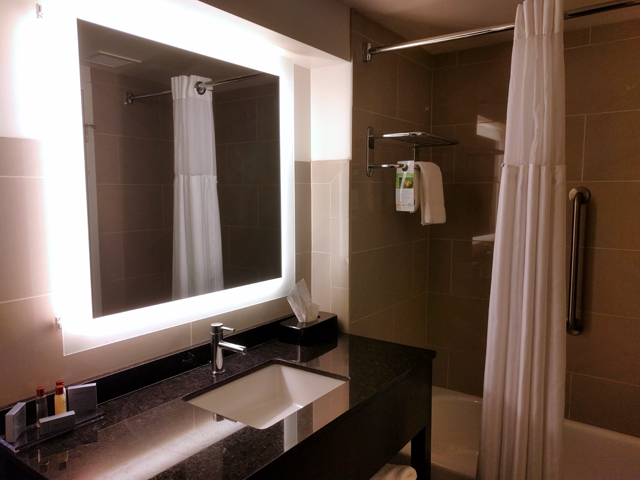 I also liked having a desk where I could set up my laptop and get a little extra work done in the evening. Other amenities, like the flat screen TV, in-room coffee and toiletries were fairly standard and adequate for my needs. I especially appreciated the microwave and mini fridge, which helped me save money by eating at least one meal a day in the room. That let me splurge more when dining out. Some great choices include La Cascata (Italian), Savor (fine dining) and Old Falls Street Deli (casual sandwiches), all less than a half mile from the hotel.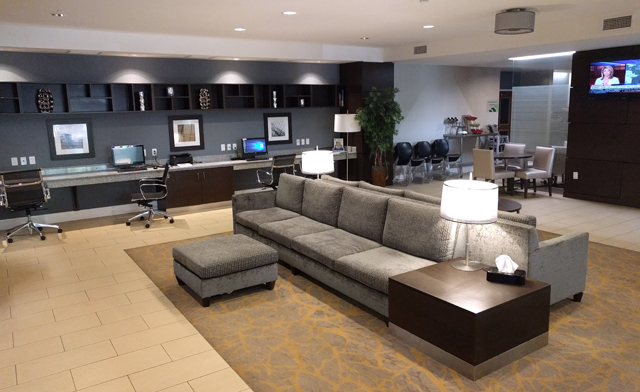 Breakfast was taken care of in the lobby downstairs. They serve a complimentary selection of eggs, sausage, cereal, oatmeal, yogurt, breads and fruit. The fluffy pancakes are actually quite good. It is immensely popular, however, so I recommend getting there early. Just before it closes, the dining area gets pretty crowded.
The indoor heated saltwater pool was also popular when I visited — there's probably something about seeing all that water at the falls that makes you want to jump in for a refreshing dip. The fitness center has cardio equipment and free weights, but if you do half the walking I did, you won't need it.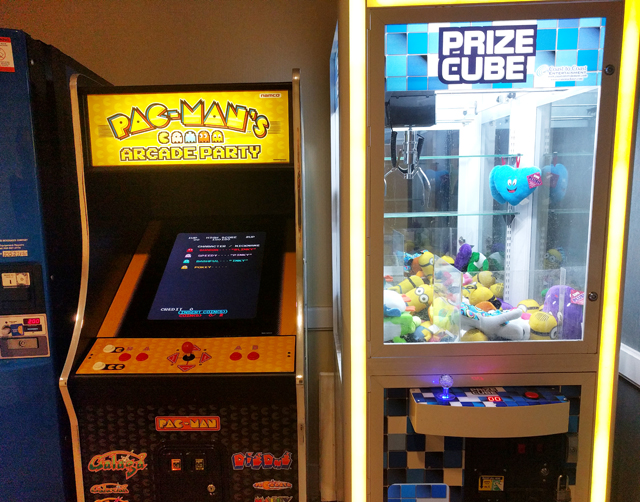 Outside the pool room, a couple old-school arcade games will entertain the kids for a minute. You can also browse the brochure display in the hallway, and you may find yourself extending your trip. For example, Lockport, the home of the famous Erie Canal cruises, is just a little over 30 minutes from Niagara Falls. The front desk attendants can tell you all about that, too. They really know their stuff.
My takeaway? The Wingate is super affordable with a perfect location. A lot is already included with your stay from breakfast to the free parking and Wi-Fi. They can also assist with a complimentary shuttle to the airport and outlet mall, all the way up to
Old Fort Niagara
in Youngstown, a perfect day trip for history lovers. Overall, the Wingate is a solid pick for families and first-time visitors.
Visiting the Falls
You can walk to the park and view the falls for free, but if you want to get really up close and deeply personal with them, you have two options: the
Maid of the Mist
and
Cave of the Winds
. The Maid of the Mist is a boat tour that takes you to the base of the falls. As you approach, you're treated to stunning panoramas you can't see anywhere else. Those photos are some of my favorites from the trip.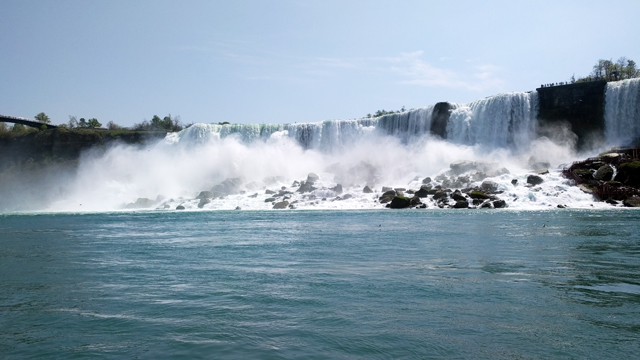 As you get closer, though, put your camera away — this is when you learn just how much mist 35 million gallons of falling water per minute actually make. They give you a plastic poncho, and you can stay on the far side of the boat to avoid most of the spray, but I think it's better to stand as close as you can. It's exhilarating.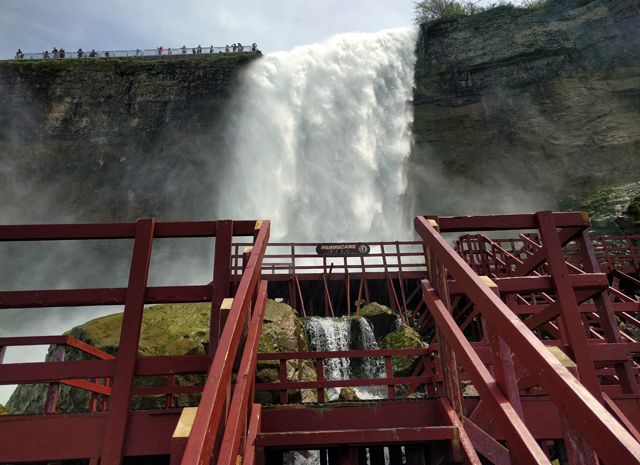 Cave of the Winds gives you access to a staircase that leads you down to the water where you can reach out and actually touch Bridal Veil Falls. If you don't want to get wet, just walk along the dry portions and admire the seagulls and dozens of tiny waterfalls spilling over the rocks. For off season vacations, this dry version is their gorge trip, only $7 for adults, an absolute steal. In season, the
Discovery Pass
is the best value. It includes the boat ride and Cave of the Winds along with the aquarium, the Discovery Center, and the Niagara Adventure Theater, which gives you a little history on this world wonder. The pass also includes unlimited trolley rides, but even without it, trolley fare is only $3 for the day.
All told, it's an affordable vacation, one I wish I could take all over again.
About the Author: Cheryl Rodewig is a storyteller and creator — for brands (content marketing) and her life (travel). See more of her travel stories on Twitter at @cherylrodewig or online at cherylrodewig.com.
This post contains references to products from one or more of our partners. We may receive compensation when you click on links to those products. For an explanation of how ABN works, visit this page.
Featured Vendor

Get Hertz Discounts
Subscribe to Our Blog!
Like Us On Facebook