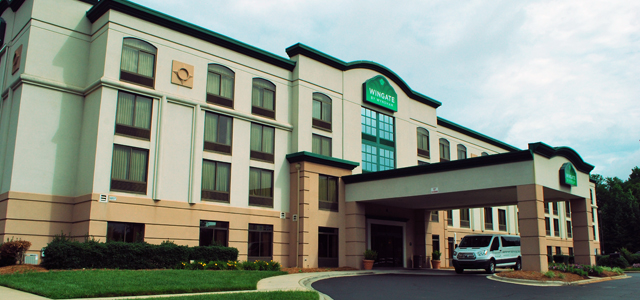 Hotel Review: Wingate by Wyndham Charlotte Airport South, Charlotte, North Carolina
On a recent trip to Charlotte, North Carolina, travel writer Cheryl Rodewig stayed at the Wingate by Wyndham Charlotte Airport South hotel. Here's her take on the experience.
When I decided to plan a trip to Charlotte, North Carolina, I wasn't sure at first where to call home for the weekend. Downtown hotels charge a parking fee, which I could live without, and my bucket list of must-see spots was spread all over the map.
I opted for the
Wingate by Wyndham Charlotte Airport South
for the convenient location right off Interstate 77. It's less than 15 minutes from downtown and even closer to attractions like Carowinds, Exit Strategy and the Billy Graham Library.
I'm also always a fan of a good deal, and Wingate offers great value. The chain recently scored MONEY's
2016 Platinum Award
, coming at the top of a list of over 70 national brands rated for customer satisfaction, amenities and cost. Part of the Wyndham family of hotels, Wingate hotels aren't too pricey, especially if you take advantage of their Wyndham Rewards program for special rates combined with the ABN member discount Corporate ID 8000000066 for an additional 20% off the Best Available Rate.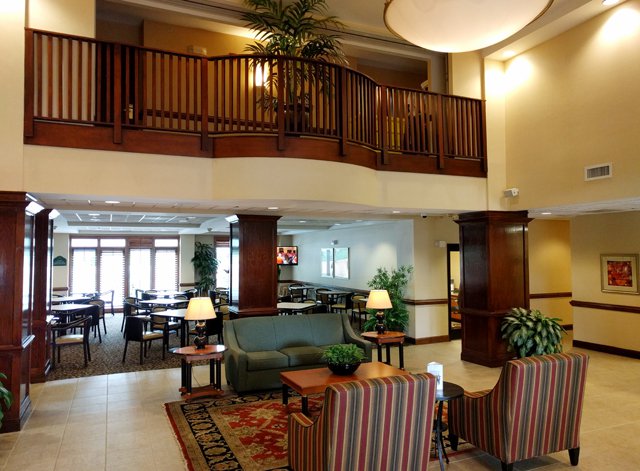 First Impressions
It was easy to find the hotel with GPS, and when I pulled in, I was impressed by the bright, modern exterior. Inside, it's just as welcoming with an open lobby and fresh coffee for weary travelers, which we were after five hours in the car.
The reception staff was friendly and professional. My welcome set the tone for my entire stay, and made me happy to be there. And they were efficient, getting us checked in quickly so I could drop off my luggage before heading out to explore.
Arriving by plane?
For those travelers not close enough to Charlotte to drive, this Wingate hotel is a great choice. It's convenient to the Charlotte Douglas International Airport, and they have a free 24-hour shuttle for guests. Just call the front desk and let them know when you need it.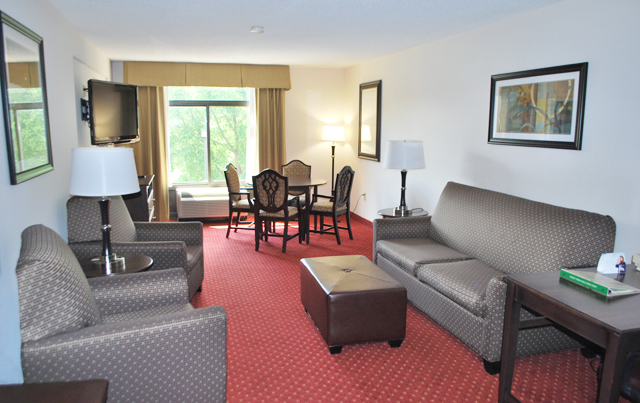 The Rooms
Several of the guest rooms are newly renovated and it shows. Each comes equipped with a 37-inch flat screen TV, microwave and fridge. For a little extra luxury, opt for the king suite. It has an extra TV in the bedroom and a mini kitchenette perfect for longer stays.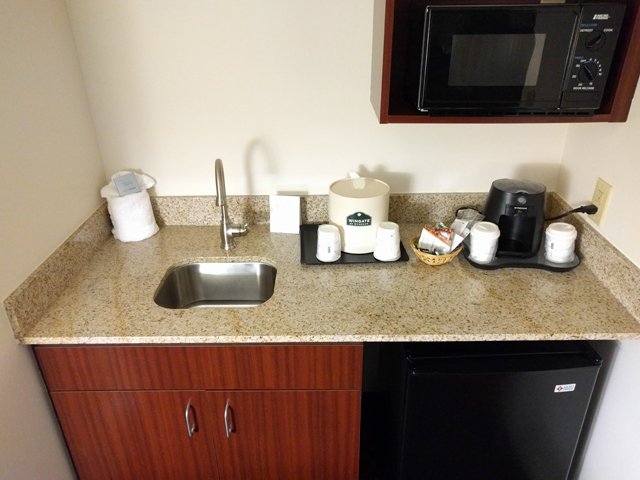 My vacations are more work-vacations, so I appreciate a room with a little more, well, room. It was great to have the extra space offered by the suite where I could set up my laptop, my husband could set up his laptop, and we both had plenty of elbow room to get work done. There are outlets galore, including right by the bed, so I could plug in my phone, camera battery charger and other sundry electronics with ease. The free Wi-Fi was easy to connect to and reliable.
For me, the bed and hypoallergenic pillows were just the right combination of firm and soft.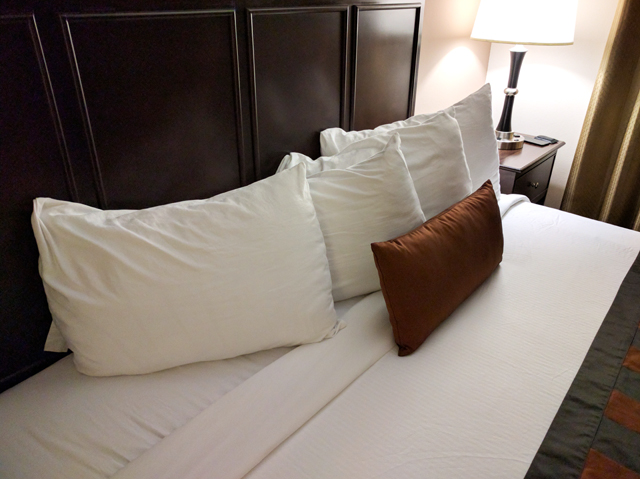 The bathroom was clean and roomy, too, featuring a curved shower curtain rod, a hair dryer right by the counter and Vitamin-E-infused shampoo and conditioner. Bonus: The individual lotions they provide are also hypoallergenic.
Amenities
The 24-hour fitness center is kind of amazing. It's incredibly expansive, airy and well-lit, making this a space you actually want to work out in. It was a pleasant surprise compared to the rather neglected hotel gyms I sometimes see.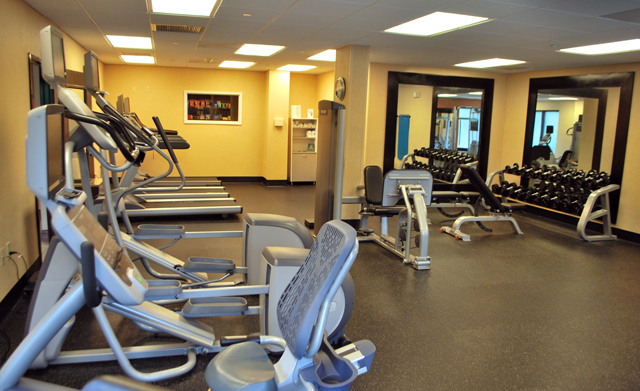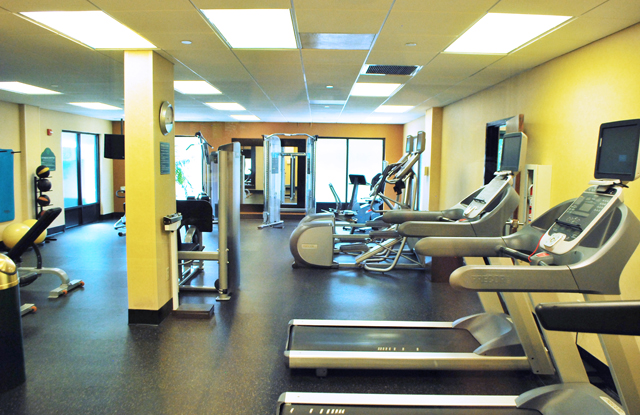 Apparently, there used to be a hot tub, but guests weren't using it like they were the fitness center, so management decided to give the guests what they wanted, renovating the room and extending it. Now, there's plenty of equipment so you don't have to wait on a machine and you have lots of options for your morning workout. When the weather's nice, you can also take a dip in the outdoor pool.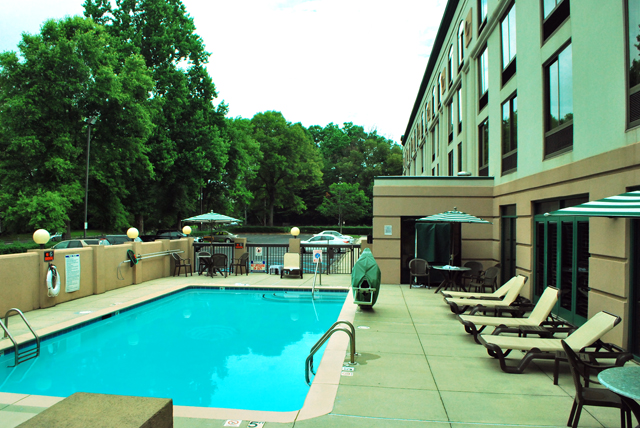 After all that exercise, you need a hearty breakfast. I filled up on toasted bagels smeared with cream cheese, eggs, sausage, yogurt and fruit-topped oatmeal. Breakfast is my favorite meal of the day, and it's not something I treat lightly. Pastries, waffles, cereal, toast and grits round out the offerings, so I had plenty of fuel to start my sightseeing each day.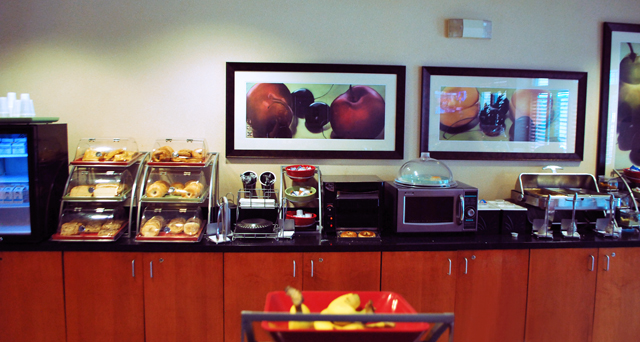 For mid-week travelers, the Wingate also hosts a free social with finger food and libations in the afternoon Monday through Wednesday. For ultimate convenience, you can also stop by their on-site shop to pick up frozen meals, toiletries, snacks, beer and wine.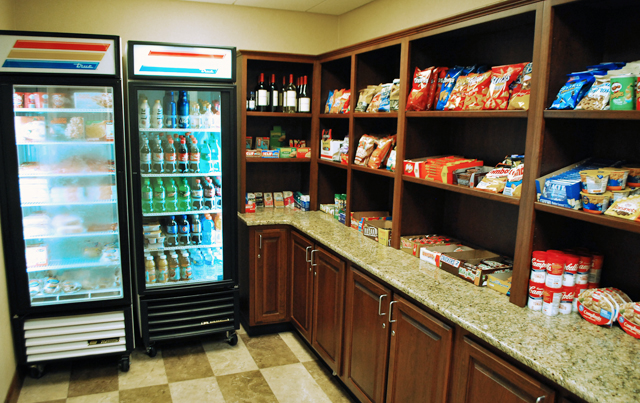 Still hungry? A few area restaurants do delivery right to your room, but I recommend venturing out for lunch and dinner. After all, you're in Charlotte, home to some of the best cuisine in the Carolinas. There's no need for room service when there are top-notch chefs right down the road waiting to dazzle your palate.
Overall, this is definitely a hotel I would stay at again. The location and amenities and especially the top-notch customer service make it a great value — a solid choice for business or solo travelers, families and couples.
About the Author: Cheryl Rodewig is a storyteller and creator — for brands (content marketing) and her life (travel). See more of her travel stories on Twitter at @cherylrodewig or online at cherylrodewig.com.
This post contains references to products from one or more of our partners. We may receive compensation when you click on links to those products. For an explanation of how ABN works, visit this page.
Featured Vendor

Get Hertz Discounts
Subscribe to Our Blog!
Like Us On Facebook