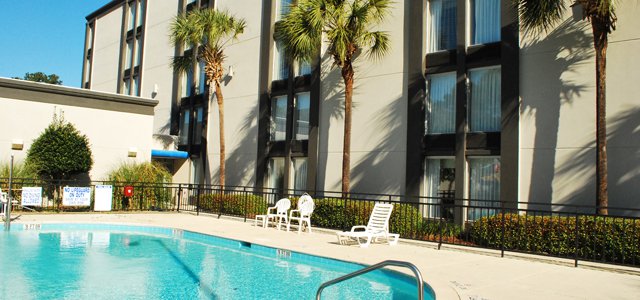 Hotel Review: the Holiday Inn Express Charleston-Summerville, South Carolina
On a recent trip to Charleston, South Carolina, travel writer Cheryl Rodewig stayed at the Holiday Inn Express Charleston-Summerville. Here's her take on the experience.
Summerville is just a few minutes outside of Charleston, South Carolina, and a quaint destination in its own right. For visitors on a budget, it's the perfect base for your Charleston exploration, and at the
Holiday Inn Express Charleston-Summerville
, you don't have to sacrifice quality for affordability.
When I stayed at the Holiday Inn Express this spring, the hotel was undergoing renovations. They have some big plans in store, including a restaurant and full-service bar. Since most of the work is on the ground floor, it didn't affect my stay much. There's a slight detour to the breakfast area, but no additional noise or disruption.
Checking-In
I pulled up at the Holiday Inn Express Charleston-Summerville after a full day of sightseeing and was ready to get to a comfortable bed. The staff checked me in quickly and efficiently.
As a member of the IHG Rewards Club, I enjoyed a few extra perks, such as earning points on my room stay, including bonus points because of the renovations going on at the time. I also received a welcome amenity when I checked in.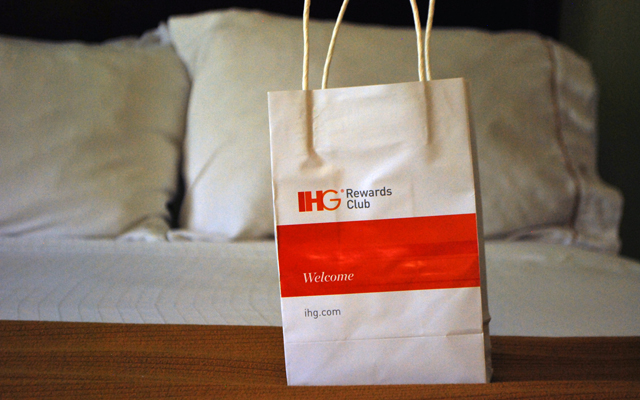 I'll be honest. This bag is why I signed up for their rewards. The contents vary from hotel to hotel, but here it was a bottle of water and a snack, which after driving five hours to get there, I was grateful for.
They also gave us a couple soft chocolate chip cookies, something they do to welcome all their guests, just a small gesture of the Southern hospitality Charleston is famous for.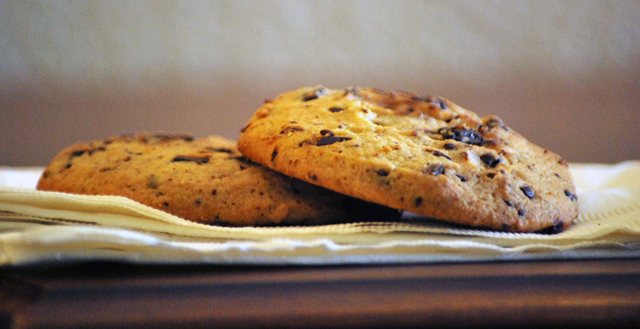 Save Even More on the Nightly Rate
Hotels in Summerville are more affordable than their Charlestonian cousins. Staying at the Holiday Inn Express, I still had easy access to all the big attractions, including the plantations, shopping and beaches, but I paid about half the price.
They also had an additional discount while they're finishing up renovations, so I couldn't find a better deal for the same quality level elsewhere. Even without the renovations discount, though, the nightly rate is typically under $150.
The Rooms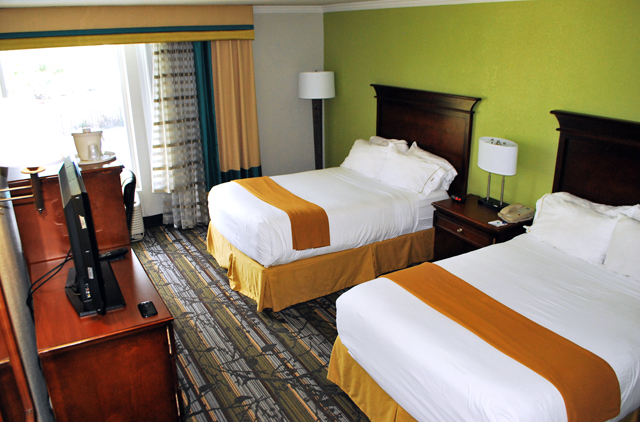 Both queen beds were comfortable and roomy. The view wasn't anything outstanding, but I wasn't there to gaze out of the window. The room was clean and conveniently outfitted with everything I needed for my stay, including a mini fridge and microwave.
The bathroom was stocked with toiletries from Bath & Body Works and a generous supply of soft towels — nothing luxurious but everything I needed for my home away from home.
Amenities
I didn't get a chance to go for a swim, though the outdoor pool looked inviting. The nearby fitness center is on the small side but adequate for a morning workout, equipped with cardio machines and plenty of weights and balls for resistance training. They'll be getting larger yoga balls and mats soon as well.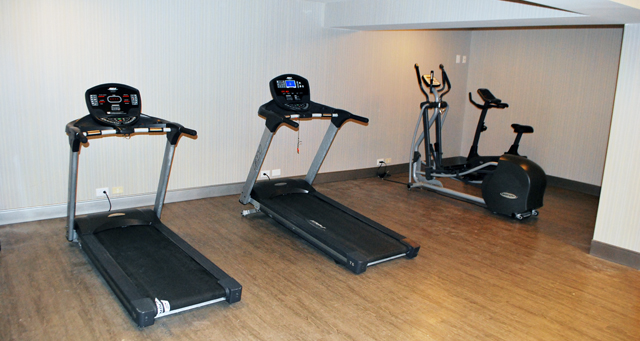 There's free Wi-Fi in the rooms, which I depended on, and it didn't let me down. Each room is also equipped with a Keurig so you can make your morning cup of coffee before heading downstairs.
And then there's the breakfast.
I really enjoyed it, even if it was mostly the standard fare. The continental breakfast includes all the staples: cereal, fruit, muffins, sausage, bagels, toast, eggs and yogurt. It also has extras like cinnamon rolls and biscuits with gravy.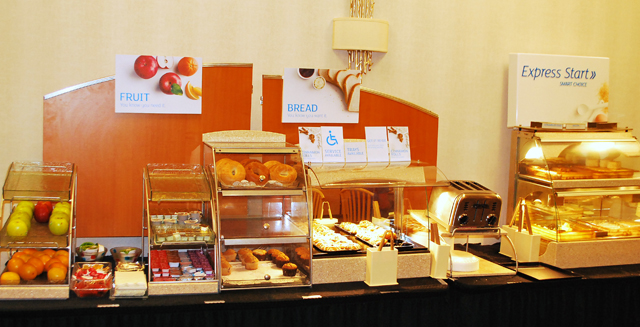 The Holiday Inn Express Promise
I like staying at Holiday Inn Express hotels because I know what I'm getting. This hotel lives up to the chain's standards of excellence, and if you're able to go before they finish renovating and can save a couple extra bucks, all the better. Either way, right off the interstate and easily accessible, it's a great place to stay when visiting Charleston and the surrounding area.
About the Author: Cheryl Rodewig is a storyteller and creator — for brands (content marketing) and her life (travel). See more of her travel stories on Twitter at @cherylrodewig or online at cherylrodewig.com.
This post contains references to products from one or more of our partners. We may receive compensation when you click on links to those products. For an explanation of how ABN works, visit
this page
.
Featured Vendor

Get Hertz Discounts
Subscribe to Our Blog!
Like Us On Facebook