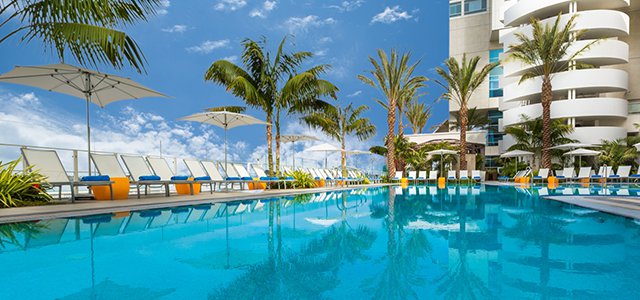 Hotel Review: The Hilton San Diego Bayfront
On a recent trip to San Diego, travel writer Cheryl Rodewig stayed at The Hilton San Diego Bayfront. Here's her take on the experience.
For my first trip to San Diego, I knew I wanted to stay on the water. For those of us East Coast city dwellers, there's nothing like seeing the Pacific Ocean for the first time and living — for a few days at least — just a walk away from it.
The
Hilton San Diego Bayfront
fit the bill perfectly. The AAA Four-Diamond hotel sits right on the water and was the ideal retreat for a relaxing three-day getaway.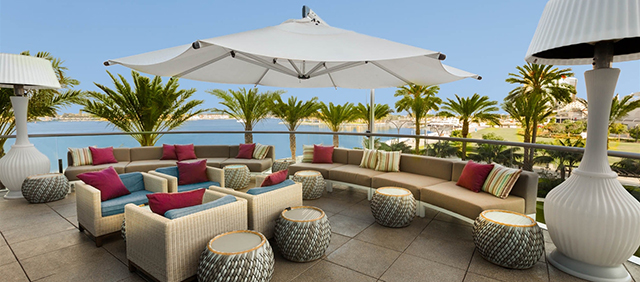 Photo Credit: Hilton San Diego Bayfront website
The Hotel
The Hilton Bayfront has ocean influences throughout, from its architecture to the aqua-toned art decorating the lobby, hallways and room. Even the movable stanchions that form the check-in line are modeled after a gentle silver wave, reminding guests of where they're lucky enough to be.
Like the ocean, the hotel is expansive. The 30-floor building dominates the skyline on the bay, which made it an easy landmark for me when I was out walking and needed to head in. And there's a lot you can do without leaving the grounds. The complex includes extensive meeting rooms, a number of restaurants, a frozen yogurt shop, Starbucks, a fitness center and a spa.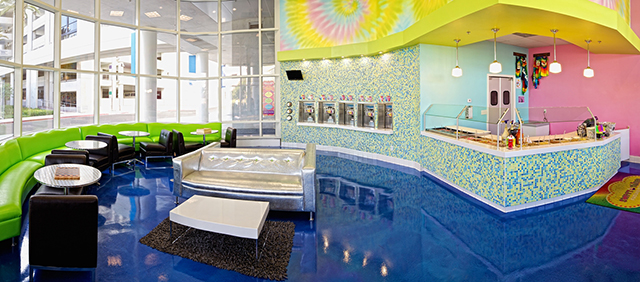 Photo Credit: Hilton San Diego Bayfront website
The rooms are also a generous size. I had plenty of space to move about and lounge in my two queen bed guest room. I booked their standard room by phone and didn't specify a view, so as it happened, my tall, broad window looked out onto the pool and the nearby bay. If you choose, you can select a room facing the port and Coronado Island or more of a city view along the bay.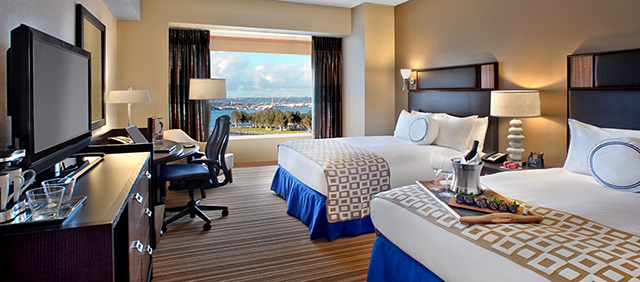 Photo Credit: Hilton San Diego Bayfront website
The beds were deeply plush and particularly inviting after a day of activity. They have extra pillows, a roomy bathroom and everything else you could need to make your stay comfortable.
The Amenities
Even on vacation, connectivity is important to me, and the in-room Wi-Fi, free for HHonors Diamond members, never let me down. There's also free Wi-Fi throughout most of the public seating areas around the hotel, and I saw plenty of important-looking business people settled in the expansive lobby with a laptop and coffee, happily typing away.
But you won't be in the room or even indoors that much. You'll be walking down to the bay for beautiful views of the ocean, the ships and sailboats, Coronado and the park.
Make sure you save an evening after sightseeing to dip into their pool. It's the only heated saltwater pool in the city, staying a mild 82 degrees year-round. There's also a slide and Splash Zone for the kids with a giant flat-screen TV above it as well as two hot tubs. On my first night back from walking the Gaslamp Quarter — another sight just a few blocks from your doorstep — relaxing in the hot tub melted all my tiredness away.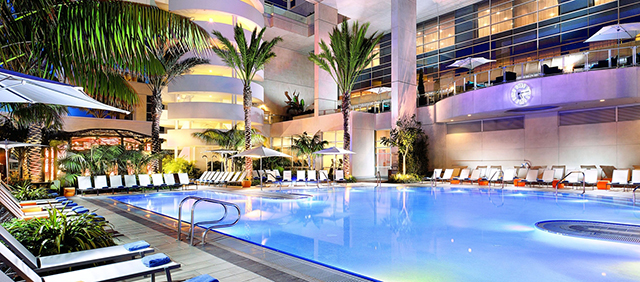 Photo Credit: Hilton San Diego Bayfront website
There's also a pool bar if you want some drinks or snacks, and the fitness center and spa are nearby as well.
The Service
Their customer service was incredible. At this level of hotel, you expect everyone to be professional and polite, but I was pleasantly surprised at how friendly each person I spoke with was, from check-in to the concierge who offered great advice on nearby scenic spots.
One day, I needed my name badge for an event that afternoon and realized I'd accidentally left the magnet that goes on the back at home. One of the staff kindly volunteered to lend me the magnet from his name badge, which solved my problem perfectly and no one was the wiser. It's a weird anecdote but just goes to show you how happy they are to accommodate even the most offbeat requests.
Summary
This hotel is luxurious. It's a beautiful backdrop for your San Diego vacation with photo-worthy views from nearly every angle and great places to walk or relax, such as the perfectly manicured Promenade Park.
It's not cheap, in quality or in price, but if you're staying mid-week, your nightly rate is typically well under $300 and sometimes as low as $179. The amenities are exceptional, particularly the pool, and the crown jewel is really the location. You are so close to everything in this extremely walkable city that you won't need to rent a car to see the sights, which is a savings in itself. And if you should want to, you can walk to the bay every morning — or just open your window — and stare out at the endless blue. It's not a bad way to start the day.
Main Image Photo Credit: Hilton San Diego Bayfront website
About the Author: Cheryl Rodewig is a storyteller and creator — for brands (content marketing) and her life (travel). See more of her travel stories on Twitter at @cherylrodewig or online at cherylrodewig.com.
This post contains references to products from one or more of our partners. We may receive compensation when you click on links to those products. For an explanation of how ABN works, visit this page.
Featured Vendor

Get Hertz Discounts
Subscribe to Our Blog!
Like Us On Facebook