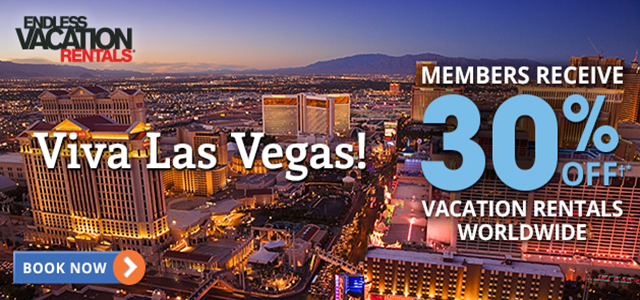 Get 30% Off†* with Endless Vacation Rentals® in LAS VEGAS
Nowhere else can you head out for an evening stroll and experience the world, from Venice to New York to ancient Greece - all with a backdrop of the beautifully stark red rock of southern Nevada.
Famous for its casinos, Las Vegas boasts the best tables, roulette wheels, and slots anywhere. But there's so much more to this desert destination.
Immerse yourself in the decadence of the Strip, stopping to take a gondola ride at the Venetian or watch the erupting volcano of lights at the Mirage. Enjoy superb entertainment such as The Blue Man Group or Cirque du Soleil, or hang out with your favorite stars at Madame Tussauds Wax Museum.
You don't have to go to Milan or Paris to indulge in a shopper's paradise. Designers such as Dior, Blahnik, and de la Renta are easy to find among the city's compilations of high-end shops. After a day of perusing, soothe your tired muscles at one of Las Vegas' plentiful spa, or indulge in a delectable dinner in one of Las Vegas' famous eateries.
If you're struck with the urge to get back to nature, you won't have to go far. Venture away from the city lights to nearby Hoover Dam, and stop at Lake Mead for some boating, fishing, or rugged desert hiking. Or take a scenic drive through Red Rock Canyon and stop to go rock climbing.
Visit Las Vegas and see the world. But you can leave your passport at home.
ABN members receive 30% off†* select weekly vacation rentals when you book at http://www.endlessvacationrentals.com/abn or by calling (877) 782-9387. Use discount code (67243) when speaking with one of the vacation guides.
This post contains references to products from one or more of our partners. We may receive compensation when you click on links to those products. For an explanation of how ABN works, visit this page.
Featured Vendor

Get Hertz Discounts
Subscribe to Our Blog!
Like Us On Facebook