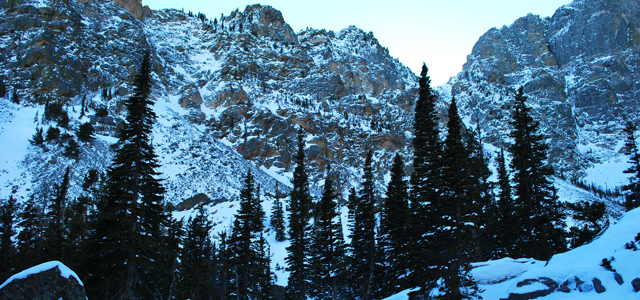 Day Trip from Denver: Rocky Mountain National Park in Winter
Colorado's Rocky Mountain National Park is stunning in winter. The subalpine lakes are frozen and the park is blanketed in snow. Even with more than 400 square miles to choose from, you can see much of it in a day trip from nearby Boulder or Denver. And there's no better time. The park just celebrated its centennial anniversary this year.
Getting There
If you're in a crunch to get there, head straight for the park. From Denver, it's only a 90 minute car ride. But if you have a little more time, choose the scenic route. The Peak to Peak Highway is a national scenic byway that tunnels through mountains and unfolds sweeping panoramas of the Continental Divide.
The easiest way to take the byway is to make sure you pass through two main points along the way: Nederland, a small mountain town near the base of the 55-mile highway, and Allenspark, an even smaller town toward the end of your drive. Be prepared — you will lose access to location and Internet services outside of the towns, so make sure to set your GPS in advance for your destination.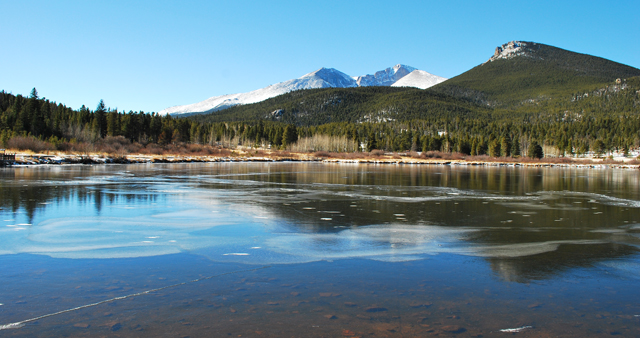 Allow around two and a half hours for the drive so you can stop at pull-offs along the way to enjoy the views. Highlights include the Saint Malo Retreat Center, a picturesque wedding chapel in Allenspark, and Lily Lake, which has an easy paved trail circling the water.
Entering the Park
Your first stop will be the Estes Park Visitor Center for brochures, restrooms, directions and in general getting your bearings. The town of Estes Park is the eastern gateway to Rocky Mountain, but it's also a destination in itself with a beer garden, winery, plenty of shops and the historic Stanley Hotel, famous for its inspiring role in The Shining.
Before you head into the park, make sure you have plenty of water, any food you want for your hikes and appropriate gear for your trek. If you'll be hiking on the trails, you'll want ice grips or spikes to provide traction against the ice. For additional balance, you may want snow poles as well. Both can be rented or purchased in Estes Park.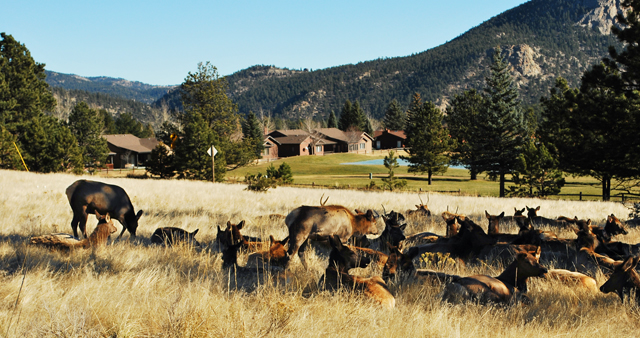 If you're an animal lover, be on the lookout for elk. Large herds graze in and around Estes Park during the winter. You can pull off to take photos from the side of the road, and they won't mind. They're used to tourists.
Day passes to enter Rocky Mountain are $20 per car. In warmer months, a shuttle runs to several of the main stops, but for a winter day trip, you'll want to choose one or, at a max, two trailheads to visit.
On the Trails
If you want to see a waterfall, Alberta Falls is a relatively easy 1.6-mile roundtrip hike from the Glacier Gorge Trailhead. It's a 30-foot cascade, popular with visitors, but in the winter months, the site is much less crowded.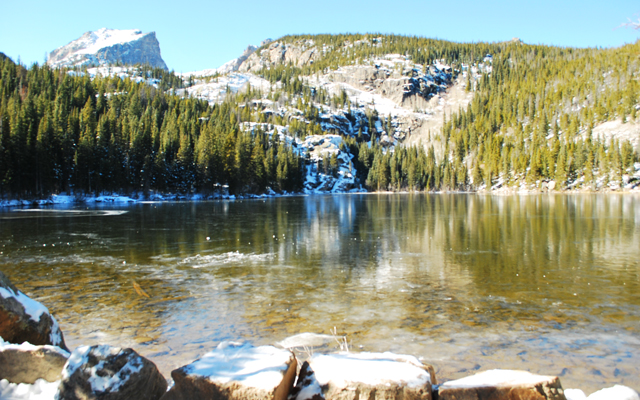 To see a string of dazzling frozen lakes, head to the Bear Lake Trailhead. Bear Lake is just a few feet from the parking lot. If you walk the Bear Lake loop, it's a little over half a mile and relatively flat, making it a good fit for a range of ability levels.
To continue on toward Dream Lake, one of the most photographed lakes in the park, you'll walk just over a mile from Bear Lake, passing yet another frozen pool — Nymph Lake — on your way. From Dream Lake, you'll catch a glimpse of Hallett Peak and Flattop Mountain, both well over 12,000 feet, reflected in the water.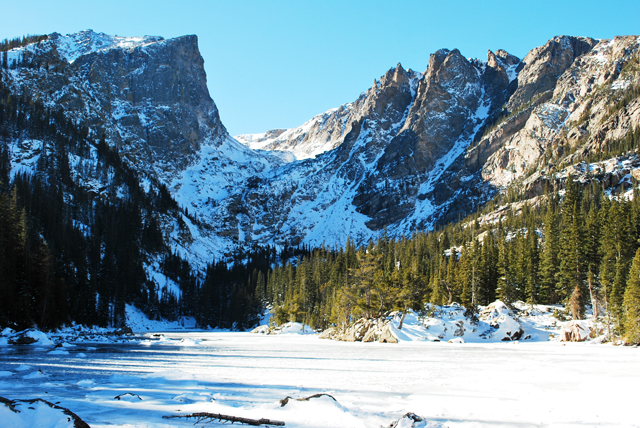 At this point, you'll need to assess how far you want to continue. If you have time, hike another three quarters of a mile to Emerald Lake, a show-stopping subalpine lake shouldered by mountains. This is more of an uphill trek, so if daylight is waning, head back for a scenic drive up Trail Ridge Road.
Wrapping Up
Trail Ridge is the highest paved through-road in the country and is listed on the National Register of Historic Places. From late May to October, the road is open to its highest point at 12,183 feet. In the colder months, you can still drive the lower portion to see dramatic views of Rocky Mountain.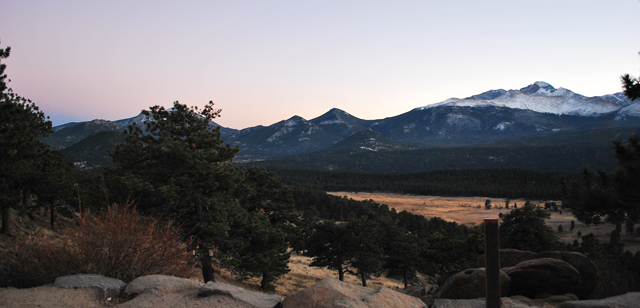 Head back down Trail Ridge Road just before dusk. If you catch it at the right time, as the sun dips behind the peaks, the sky is suffused in shades of pink and purple. Sunset comes early in winter, so you'll have plenty of time to unwind back in the city or Estes Park, enjoying a warm meal and memories of a day filled with spectacular winter beauty.
About the Author: Cheryl Rodewig is a storyteller and creator — for brands (content marketing) and her life (travel). See more of her travel stories on Twitter at @cherylrodewig or online at cherylrodewig.com.
Featured Vendor

Get Hertz Discounts
Subscribe to Our Blog!
Like Us On Facebook