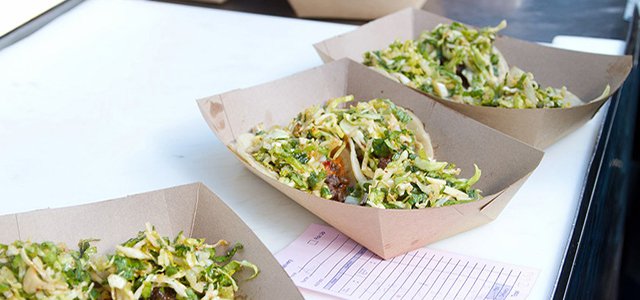 10 Cheap Places to Eat in Los Angeles
Let's face it, when we're traveling we're basically trying to live the baller life...on a budget. And Los Angeles is infamous for high priced eats. And even though you might not sit next to Jennifer Lawrence for dinner, these restaurants, food stands and trucks offer some of the best eats in the city for a price that all of us non-celeb budget travelers (and gastronomes) can afford.
1. Kogi BBQ:
You can't go wrong when tacos are $2.29 and burritos are $6. (Pro #fatkid tip: order the Spicy Pork and go wet on the burrito, trust me.)
2. Tatsu Ramen:
You can NEVER go wrong with the Bold Ramen for $11. Add a Wagyu Ramen Burger for $7 if you're feeling extra adventurous.
3. Bludso's Bar and Que:
1. Go to Bludso's Bar and Que on La Brea. 2. Order ¼ pound of brisket ($7), ¼ pound of pulled pork ($6), ¼ pound of rib tips ($7), mac and cheese ($5) and collard greens ($5). 3. Eat your little heart out.
4. Guerrilla Tacos:
Whatever $5 tacos are on the menu that day. Times 3.
5. Tsujita Noodle Annex:
Tsukemen. Tsukemen. Tsukemen. That's all you need to fill you up for $10.95.
6. Eggslut:
Who knew that a $7 bacon, egg and cheese sandwich could make you this happy?
7. Chego:
While the Sour Cream Hen House (marinated grilled chicken rice bowl with fried egg, greens, sour cream sambal, Thai basil, toasted sesame and red chilies) for $12 is enough to fill you up, the Ooey Gooey Fries (French fries with sour cream sambal, Monterey Jack and cheddar cheeses, cotija, chilies, cilantro and pickled garlic) for $7 IS AN ABSOLUTE MUST (and the best fries you'll find in L.A.).
8. Stout Burger:
The $12 Goombah Burger (parmasiano flakes, smoked mozzarella, crispy prosciutto and lemon basil aioli) will be the new burger that you compare all other burgers to.
9. Guisados:
Order ALL THE TACOS. They're only $2.75 - $3 and worth every. single. penny.
10. Manna Korean BBQ:
All of this unlimited Korean BBQ can be yours for just $19.99. But you should really go all out and go for the AYCE (all-you-can-eat) Black option that includes Galbi and pork jowl for just $31.99.
Main Image Photo Credit: Facebook.com/KogiBBQTacos
About the Author: Breanna Wilson is a freelance travel writer who documents her adventures on her Instagram and Twitter under the handle @breannajwilson. Follow her for more travel tips and advice.
Featured Vendor

Get Hertz Discounts
Subscribe to Our Blog!
Like Us On Facebook