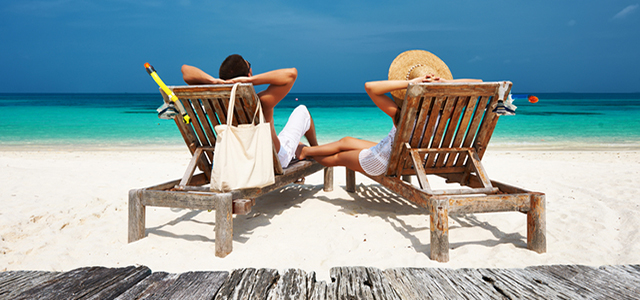 8 Essential Skills To Know if You're Thinking About Traveling the World
Even when you're not a full-time wanderer, travel skills are great to possess. Whether you're traveling in your own country or on the other side of the world, these next eight skills will always come in handy. From saving money, to packing and preparing for worst-case scenarios, we've got you covered for your next journey.
Pack the smallest suitcase.
Whether you want to save money or you just don't like to wait for your baggage, knowing how to properly pack a carry-on is one of the best skills a traveler can have. With measurements small enough to fit in the cabin of a plane, a carry-on requires some serious packing skills. Planning your outfits ahead of time, packing only the basics, leaving behind your big shampoo bottle and wearing your bulkiest items on the plane are essential for making packing light work. Most hand luggage-only travelers can make their carry-on last them at least a week.
Use coupons and simple hacks to save money when you travel.
Even if you're not a budget traveler, saving money is something we all love. Anything from flying at a non-peak time to visiting museums within a specific time frame (aka a free day or a late afternoon discount) to using coupons. All of these hacks can save you money. Some people skills also come in handy. Perhaps you can use those skills to get an upgrade in your hotel or make a deal when buying several items together. Being kind goes a long way (and eventually can save you money!).
Become a researching pro.
Researching your trip pays off. It is one of the most important skills a traveler should have. Finding secret hotspots, saving money on tourist traps, sleeping in great hotels, knowing where to be in which season and many other things can all make your trip an even better one. Get familiar with travel websites, forums, magazines, social media, blogs (like mine!) and other options that all have a great amount of information that takes your journey to the next level.
Have your geography and map-reading skills ready.
Yes, I know, we're in the decade of Wi-Fi everywhere. However, you never know the basics to get around around, no matter where in the world you might be. Not all Wi-Fi networks are stable and your 4G might have an off day. And don't forget that outside of your home country, 4G can be extremely expensive as well. It never hurts to bring a map (it doesn't take up much room!) and have the knowledge to use it. It can be so much easier to know how far things are located from each other and knowing how to get there without taking a major unnecessary (and frustrating) detour.
Prepare for worst-case scenarios.
First off, let's hope you're never going to need these skills. However, bad things happen from time to time. You might lose your passport or credit card. Things get stolen and you can get lost in a quiet area without many people. Luckily there are many tips and tricks that can make these experiences a tiny bit less annoying. Keeping some in-case-of-emergency cash in your suitcase for example or having all the numbers of your insurance company and bank ready in your phone. Simple things that can make a bad experience a little bit better.
Learn how to collect miles and points.
If you're traveling often then it might pay off to start saving the miles/points. You can collect them by traveling, but also by doing mundane things like grocery shopping. Eventually, once you've collected enough points, you can book flights with great discounts or even completely free. Have a look at the different credit cards, and sign up for one with a massive bonus.
Practice your math skills.
When traveling outside of your country chances are high you're faced with different currencies and metric systems. If your math skills are on point, then you shouldn't have any problems converting prices and distances during your stay. This is definitely a skill worth investing your time in! Plus: your elementary school teacher would be proud knowing you don't rely on your mobile phone's calculator all the time.
Basic language skills go a long way.
If you know how to speak more than one language, it is not just handy for finding your way around countries; it can also help you in seriously tricky situations. Generally speaking, most locals really appreciate you trying to speak their language and you might just make some new friends and valuable memories.
With these skills, your trips will become easier and more enjoyable. Some skills you'll learn by traveling and some skills you can practice at home already. Choose the tips that work best for you, use them on your next journey and enjoy your getaway!
Main Image Photo Credit: © iStock/haveseen
About the Author: Milou van Roon runs a Digital Media Agency called Explorista Media that is dedicated to making travel brands into online rockstars. She's hardly ever home in The Netherlands, and regularly abuses the European low cost flights under the excuse of 'blogging about it' on budget travel blog http://explorista.net. Be sure to follow her adventures on Instagram (@Explorista).
Featured Vendor

Get Hertz Discounts
Subscribe to Our Blog!
Like Us On Facebook