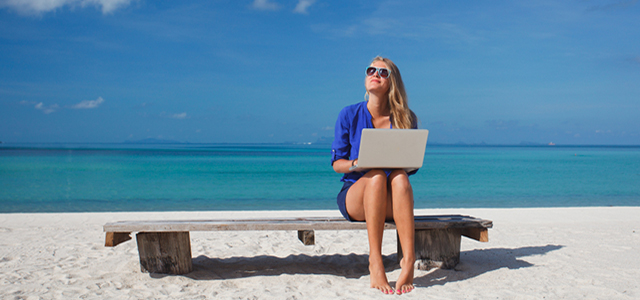 How to Keep Your Job and Travel the World
We all dream of traveling the world, but not all of us can afford to just up and quit our jobs to do it. The solution? Companies who are hosting groups of "digital nomads" offering them housing, Wi-Fi, office space, excursions and most importantly, other like-minded individuals. Here are our favorite four, all of which are currently accepting applications to join their next trips.
Remote Year
Spending a year on the road without losing your job just became easier than ever thanks to Remote Year. The concept is that accepted applicants pay Remote Year a monthly "rent" (which is the case with all of these programs) that covers their private accommodations, a 24-hour accessible office with Wi-Fi, transportation between destinations and additional activities and events. Each month the group travels to a new city that they'll call home for the entire month. There are three legs of the trip – South America, Europe and Asia. Remote Year does not provide remote work, you have to go into the program with a job that allows you to work from anywhere, literally. Remote Year is currently accepting
applications
for next year's group, leaving February 2016.
Cost: $3,000 down payment to reserve your spot, $2,000 a month
Work from Anywhere
Ever dream of living and working in the Caribbean? Here's your chance. Work from Anywhere is hosting a group of travelers starting October 14th through November 14th to work and stay in Curacao, the best island in the Caribbean if you ask me. Applicants can chose to stay for the entire month, or for a half month either at the beginning or the end of the designated period. It looks like this group previously did the same thing in Bali and I'll be excited to see where they're hosting their next group of digital nomads. To apply to work in Curacao starting in October, submit your application on their
website
.
Cost: $2,295 for the entire month, $1,350 for two weeks
Coboat
How does traveling around the world by boat sound? Like heaven, right? Coboat is making that dream a reality. Hop aboard this catamaran and work alongside other digital nomads and entrepreneurs. They claim that their internet is strong and reliable despite being out at sea and their calendar has them heading to Thailand, Malaysia, the Maldives and India in the upcoming months. If you think you can make it coworking on a boat, apply on their
website
to set sail and work for two weeks or more.
Cost: $550 down payment to reserve your spot, $1,100 a week (these are approximate prices, prices listed on their website are in Euros)
Hacker Paradise
If you're new to working remote, Hacker Paradise is a great program to get your feet wet with. Choose to work remote for as little as two weeks or as long as three months. Trips through the end of the year include Tokyo, Japan from September 26th through November 6th and Taipei, Taiwan from November 13th through December 25th. Hacker Paradise provides a private bedroom, a dedicated desk, reliable Wi-Fi, lunch once a week along with activities for the entire group. You can apply to join one of their next trips now on their
website
.
Cost: price not listed at the time of posting
About the author: Breanna Wilson is a freelance travel writer who documents her adventures on her Instagram and Twitter under the handle @breannajwilson and on her blog BreannaJWilson.com. Follow her for more travel tips and advice.
Featured Vendor

Get Hertz Discounts
Subscribe to Our Blog!
Like Us On Facebook