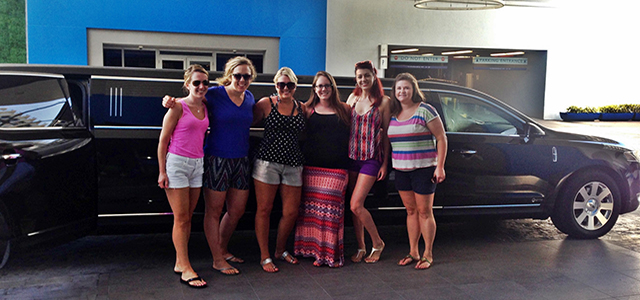 6 Ways to Survive a Destination Bachelorette Party
You love to travel and you love your girlfriends. The idea of your squad heading somewhere new and exciting can be a thrill – especially when it's to celebrate your upcoming wedding! Dreams of somewhere tropical, a giant urban city or even a thrilling ski weekend are all an exciting prospect. You can't wait to let your bridal party know of your big plans. However, destination bachelorette parties can be a lot of work and might be more trouble than it's worth if not done correctly. Here are some guidelines to help make everything go smoothly so you and your ladies can have an incredible getaway together.
It's all about you. And it isn't.
Yes, this trip is going to be in honor of your marriage – a great way for the girls to unwind together and let loose. I'm sure you'll be the star of the show, complete with gaudy sash and silly crown. But do remember the big choice your girls are making – to spend their hard-earned cash on celebrating you. Not to mention, if it's over multiple days they might have to finagle days off work, dog sitters and pricey flights. Make sure there's plenty of time planned just as a regular fun vacation and not a one-woman show.
Choose a place that works with the time frame.
Maybe you want to jet set to Paris and drink all the wine for your destination bachelorette. But if the maid of honor can only get a day or two off work, a long weekend might not be enough time to get there and recover. Save your Parisian plans for another trip and choose somewhere that works for everyone. On the other hand, if your bridesmaids have offered a whole week, spending that sitting in a boring beach house an hour away from home might be too much time without enough activities planned.
Photo Credit: Eileen Cotter Wright
Remember you're a gaggle of girls.
Obviously, you'll be welcome most places in the world as a pack of females looking to have a great vacation. But there are some places that cater to different crowds. Somewhere like Dubai could be an incredible trip, but you won't be able to party late into the night, as there's strict laws on alcohol. If you're looking for a more low-key getaway, heading to Cancun might not be the best choice. Ask your group what type of experience everyone plans of having to get some initial ideas. California could be perfect for wine tastings, New York City for shopping and clubs and Aruba for tons of beach time. Make a smart choice that will leave everyone happy.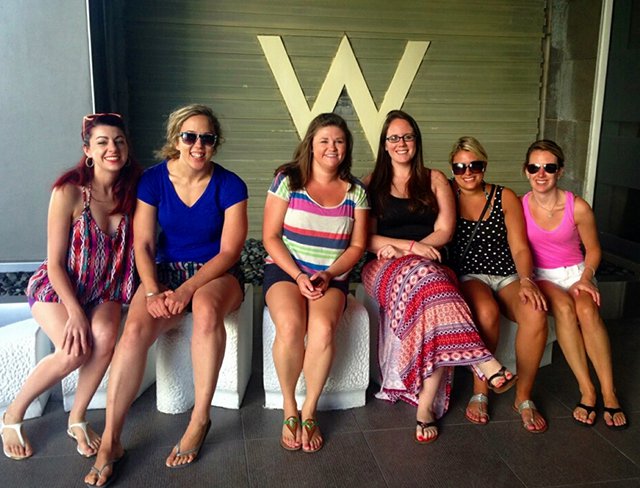 Photo Credit: Eileen Cotter Wright
Keep financials transparent.
If you're lucky, all your girls will be on the same page when it comes to how much money they want to spend on your destination bachelorette trip. However, the more likely scenario is everyone will be in different places and operate in different ways. Have the budget lined up before you even leave so people know roughly how much it will cost from the beginning. And when on the trip, bring cash as often as possible so that restaurant bills, drinks and other costs are easily split between the group. You can also collect cash at the beginning from the girls and use that fund to pay for the extras as you go along. While it's awesome that everyone rallied for your bachelorette trip, don't assume they will always pick up the tab! Treat your girls as much as you can as well.
Leave wiggle room.
If it's just you or a couple, it can be a lot easier to go with the flow. But with a group this size for a destination bachelorette, there will be more competing personalities and interests. Feel free to plan out as much as you can, but leave plenty of time to stay flexible and spontaneous. If one of the squad isn't nuts about sushi and you didn't know, it's easy to just walk across the street and tuck into an Italian joint. No big deal!
Know that not everything will be perfect.
Even among the best of friends, there's going to be a few meltdowns. This is especially true if you're in a strange place, alcohol is involved and there's many of you pulled in different directions. Just because there's a tiff or two doesn't mean the whole trip is spoiled. Do your best to diffuse the situation, especially if you're the thread that binds your bridesmaids together. Or, if tensions are a little high, suggest splitting off into several smaller groups for a while to do something different.
Main Image Photo Credit: Eileen Cotter Wright
About the Author: Eileen Cotter Wright is a Boston, MA expat living in London, UK as a freelance writer and owner of group travel site PureWander.com. Despite losing her passport the first day she left her home country, she's continued to roam the earth with gusto for about a decade. You can keep up with her hot mess adventures on her personal blog CrookedFlight.com.
Featured Vendor

Get Hertz Discounts
Subscribe to Our Blog!
Like Us On Facebook