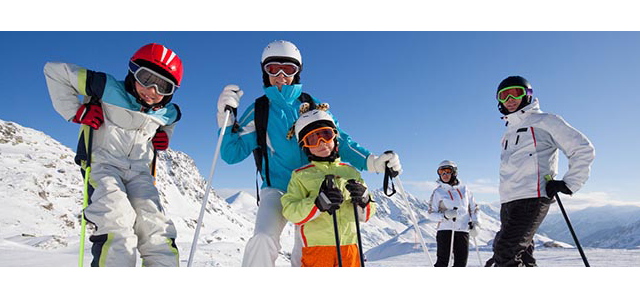 5 Tips for Planning the Perfect Family Ski Trip
Marriott's awesome ski vacation packages got us thinking, what makes the perfect ski trip? Well, we think these five things are a great start!
1. Something for everyone. If you're booking a trip for first-time skiers, make sure you choose a ski resort with plenty of beginner trails. Book your lessons in advance and don't get too ambitious when booking your stay – a few days will be more than enough!
2. Close and comfortable accommodations. After a full day of hitting the slopes, you'll want a comfortable place close to the trails to rest your head. After all, getting a good night's rest is the best way to recharge for another day of hitting the slopes.
3. Don't forget to budget in equipment rentals. Ski and snowboard equipment rental costs can add up quick. Especially if you're a family. Make sure you budget accordingly for this; otherwise you'll be watching everyone else hit the slopes from the ski lodge!
4. Pack snacks for the trails. The great thing about ski jackets is that they have plenty of pockets! Pack granola bars and small snacks in your pockets so that you can spend maximum time on the slopes! The ride to the top of the mountain is a perfect down time for this!
5. Be flexible. If you can take some time away from work or school to head out during the week, you might be able to find better overnight rates. Slopes will also be less crowded during the week which is better and less intimidating for beginners. Packages during the shoulder season are another way to save a few extra bucks and look for rental deals and Groupon dinners before you go.
Now that you're all set to have the perfect family ski trip, we'll see you on the slopes!
Featured Vendor

Get Hertz Discounts
Subscribe to Our Blog!
Like Us On Facebook