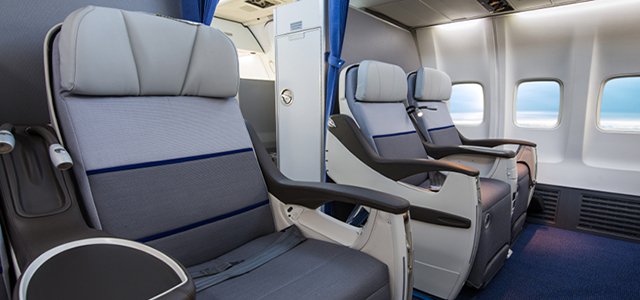 5 Tips for Getting Upgraded to Business Class When You Fly
Air travel isn't the same as it was two decades ago. With so many travelers flying each day, including business travelers willing to pay for upgraded seats, the amount of open seats at the front of the airplanes has diminished drastically. Getting an upgrade when traveling is not an easy feat, but there are a few ways to possibly help your cause that potentially could work. If you don't try, you'll never know, and the worst that can happen is you end up in your same seat that you already paid for – so really, there's no hurt in trying.
1. Become a Frequent Flyer
This one is a no brainer. If you travel a lot, you need to pick an airline and be loyal to it. A lot of these frequent traveler programs reward their members with free upgrades. Additionally, it's possible to use miles to upgrade (some with a small fee). Also, a lot of the time when economy is full or oversold, airlines will move up passengers to the premium cabin, and they usually begin with the most loyal passengers. Having status is pretty much everything these days so if you are flying a lot, rack up those points and miles, and hopefully reap the benefit.
2. Check in Early or Strategically Late
The earlier you check in on most carriers, the more likely you are to be able to choose that window or aisle seat you want. But if the flight is going to be packed to capacity and there are some economy plus or first class seats available, airline employees may choose to move those who've checked in first. Checking in online early could help in this type of scenario. Or, in the other extreme, be late, but be smart about it. This one is a gamble. You don't want to miss your flight but if you time your arrival just right and the online check-in shows that all the other seats are full, you might be able to snag some of those empty premium economy seats or exit rows that no one has booked. The downside here is that you might get stuck in an unwanted middle seat.
3. Flexibility Pays Off
We've all been at the airport, ready to board when we hear the agents asking for passengers to give up their seats in exchange for another flight and some sort of compensation. This happens when flights are oversold and there are premium passengers who take priority in getting a seat. It's an unfortunate situation that happens all the time. If you have flexibility in your schedule, this might be the easiest way to get that upgrade. When checking in, always let the agent know that you are open to possibly giving up your seat, if they need it. A lot of times airlines will offer an airline voucher valued at a few hundred dollars (depending on the flight) and a confirmed seat on the next available flight. Everything is negotiable, so it's possible to ask for a confirmed upgrade on the next flight in exchange for a smaller voucher amount. It's important not to be too extreme when trying to negotiate because most likely, there is another passenger willing to take the original offer, so be cautious.
4. Honeymoons/Babymoons
We've all seen it done on TV and movies, and the reality is, it does happen. So, if you happen to be traveling with someone and you are celebrating something special, it doesn't hurt to mention it when checking in. Not every special occasion is special to everyone, so try and reserve the celebration announcements to something truly special, such as a honeymoon or a babymoon. These two are usually the ones that will possibly warrant an upgrade, if available. If anything, you might end up with a free drink or snack, but these days, anything is better than nothing, when it comes to flying.
5. Don't Ever Ask For an Upgrade
This is crucial. More often than not, people who are asking for upgrades are doing so in a demanding way, and you don't want to be lumped in with those people. Every agent knows that everyone would love an upgrade, so there is no need to flat out ask for one. Do what you can to stand out from the crowd by being friendly, well dressed, and even helpful. Agents deal with cranky passengers all day long so try and be the one passenger they remember for making their day.
Bonus Hack: Know Your Aircraft
Try to book flights on wider or newer planes, for a comfier flight in general. Airlines with newer planes tend to offer more legroom and comfier seats. Mobile apps such as
SeatGuru
, which publishes seat maps that show you the best and worst seats on specific aircrafts owned by specific airlines, are a great way to know the types of aircraft and seat specifications prior to booking.
Main Image Photo Credit: © iStock/Aureliy
About the Author: David Duran is a Brooklyn-based luxury, hospitality, culinary, and overall freelance travel writer who contributes to such publications as Fodor's, Travel + Leisure, Destinations Weddings & Honeymoon, and Caribbean Travel + Life, among others. When not traveling 20-25 days a month for his work, he spends his free time planning more travel! To read some of his work, check out his online portfolio, and follow him on Instagram and Twitter at @mrdavidduran.
Featured Vendor

Get Hertz Discounts
Subscribe to Our Blog!
Like Us On Facebook