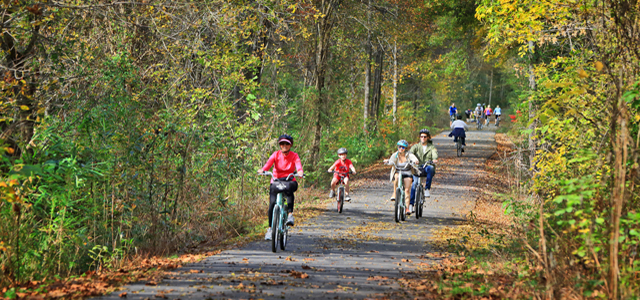 5 Reasons You'll Fall in Love With Greenville, South Carolina
There are cities you visit where you get the sense the residents must feel they're always on vacation. It's just that kind of place: there's a holiday vibe in the air, the food is good, the scenery is stunning, and everyone seems to be in a sunny mood.
Greenville, South Carolina, is that kind of city. Here are five reasons you'll fall in love when you visit.
1. A Show-Stopping Downtown
Wide pedestrian-friendly sidewalks, plenty of green space and bright, eclectic shops — those are all essential for a good downtown. Add in a bustling farmer's market like the one in Greenville, and you're really cooking. From May to October, over 70 vendors offer a pageant of sustainable wares: organic ice cream, Ukrainian Easter eggs, kimchi, truffles, gnocchi, daffodils and hand-dyed silk.
The 13-block downtown spread is dressed up with lots of eye candy, too. It has more than 70 works of public art, from the tiny, scavenger-hunt Mice on Main to the dazzling Rose Crystal Tower by Dale Chihuly.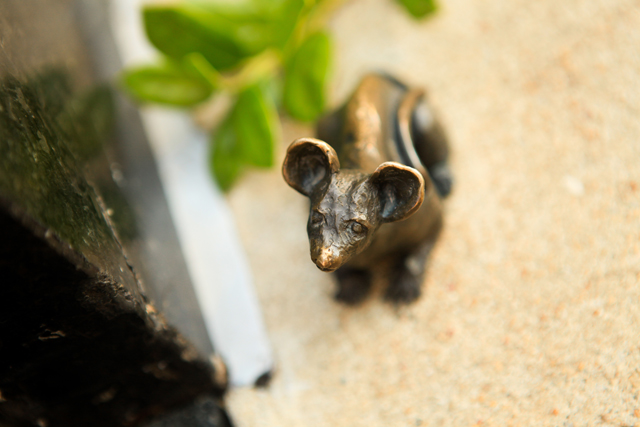 Photo Credit: Visit Greenville SC
But what really pushes it all over the edge into perfection is the tumbling waterfalls of the Reedy River. The broad rock-studded cascade seems like it would be more at home at the end of a two-mile upcountry hike, but there it is, right off Main Street. You can spend an afternoon at
Falls Park on the Reedy
, just enjoying the beauty.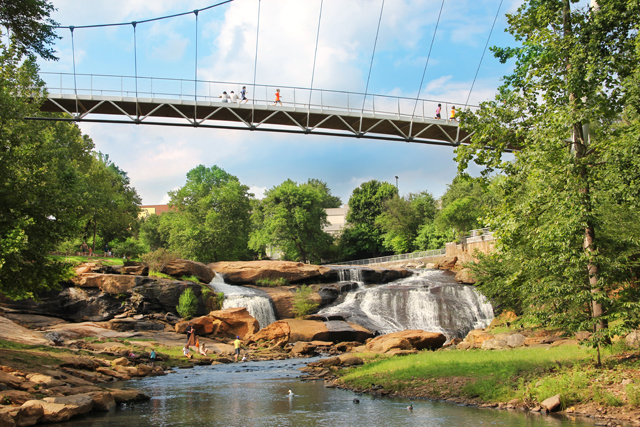 Photo Credit: Visit Greenville SC
2. Good Eating
It has to be said: a city can be only as great as its culinary craft.
Whether you're a foodie or not, you have to eat, and you'll eat well in Greenville's burgeoning food scene. The city's top chefs reimagine Southern favorites and experiment with fusion cuisine in clever ways. In downtown alone, you can find nearly 120 eateries, ranging from an old-world Dutch cafe to an edgy rooftop bar.
For dinner with a view, stop by
Passerelle Bistro
.
Passerelle
, French for footbridge, is the perfect name for this casual restaurant which serves gallettes, quiche and croque monsieur at the base of Liberty Bridge in Falls Park on the Reedy.
In fine weather, outdoor seats are in demand, so be sure to make a reservation. The menu lineup, from drinks to desserts, is both delicious and easy on your wallet. If you're hungry, opt for their burger. It comes with a changing list of toppings, like heirloom tomatoes and bacon jam, so be sure to ask what the chef has chosen for the day.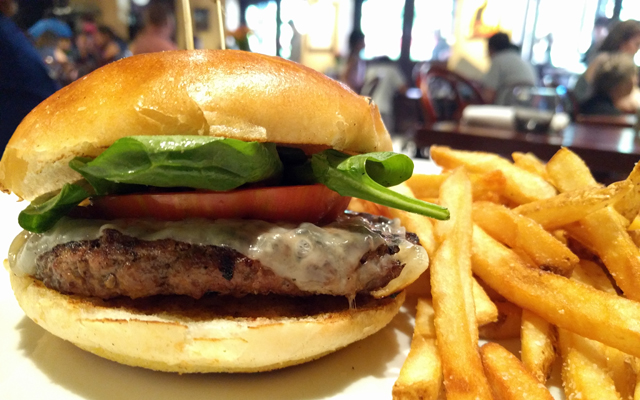 If you're feeling indulgent and maybe a touch exotic, try
Pomegranate on Main
. The Persian restaurant dishes up authentic cuisine with service that is friendly and experienced in a tranquil, romantic setting. Your meal is a culinary journey. It starts with flatbread, accompanied by the traditional pairings of radishes, mint, butter and feta: a surprising but delectable combination.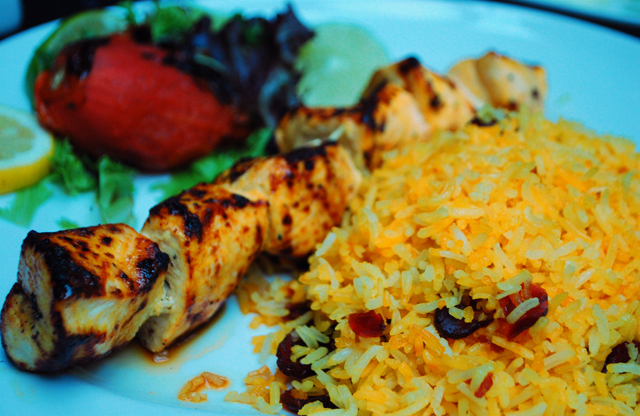 Rich and aromatic flavors — saffron, lemon, and yes, pomegranate — highlight the menu. You can't go wrong with a kabob as your main, whether chicken, lamb, beef or shrimp.
One piece of advice: Get the Persian hot tea and enjoy it with dessert. The house-made bastani, a custard-based ice cream with rosewater, pistachio and a drizzle of pomegranate molasses will leave you a changed person.
3. Green Everywhere
It doesn't stop with Falls Park on the Reedy or even the 14-acre Greenville Zoo. The city has parks and promenades peeking out of every corner.
The popular 21-mile Swamp Rabbit Trail is a biker's dream. The paved level path runs alongside the Reedy River from south of the city, through downtown and up to Traveler's Rest, a quaint small town that, coincidentally, is a great place to refresh after your trek.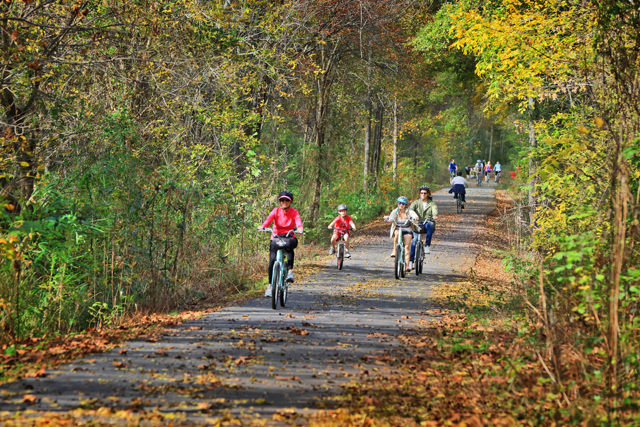 Photo Credit: Visit Greenville SC
If you didn't bring your bicycle, rent one from
Reedy Rides
. They offer half-day, full-day and weekend rentals of their three-speed cruiser bikes, which are well equipped to handle any hills you might encounter. The bikes are perfect for any skill level and come with a lock, water bottle holder, helmet and a small pouch. When your feet hit the pedals, it feels like freedom.
From their store, you can bike downtown within a minute or head a couple of blocks over to meet up with the Swamp Rabbit Trail. Greenville is remarkably bicycle-friendly, making this a great mode of transportation.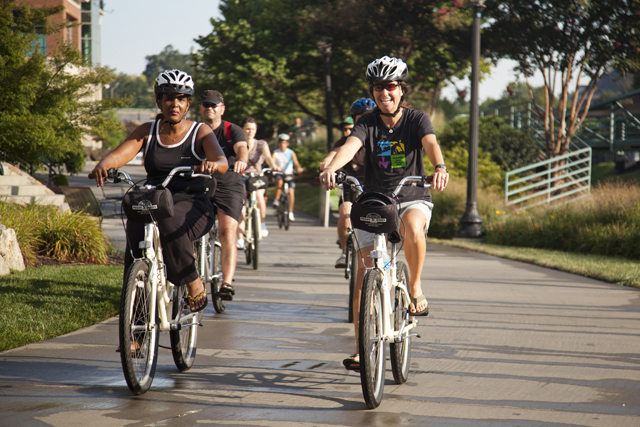 Photo Credit: Visit Greenville SC
4. Culture
Whether it's gazing at famous European masterpieces or catching a show at one of the six theaters, Greenville offers up plenty of culture. If you're short on time, visit Heritage Green. A short bike ride or 15-minute walk from downtown,
Heritage Green
is packed with cultural attractions in (of course) a sprawling green oasis.
Treasures include the Smithsonian-affiliated Children's Museum of the Upstate and the Upcountry History Museum. You can admire 400-year-old artworks at the Sargent-Wilson Museum & Gallery or browse sculptures, paintings and mobiles at the free Greenville County Museum of Art.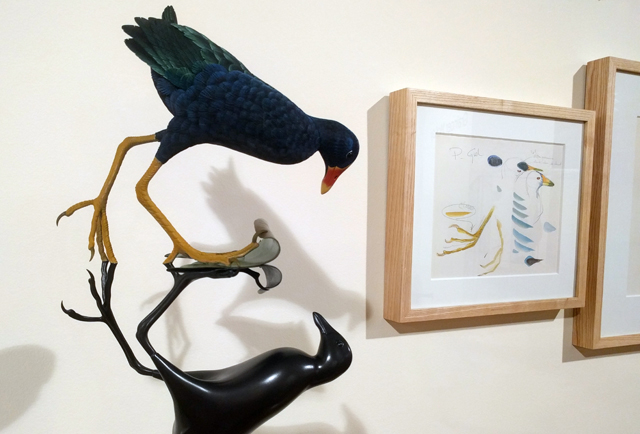 End the night with a show at Greenville's Little Theatre, a cultural institution for 90 years. Even the library on the green is worth checking out for its creative programming.
5. Not Too Big, Not Too Small
Weighing in at around 62,000 residents, Greenville isn't a metropolis, though it is the fastest growing city in South Carolina. It sits roughly midway between two larger Southern cities: Charlotte, North Carolina, and Atlanta. But it's no small town either.
In fact, à la Goldilocks, it's
just
right. The nightlife is hopping, there's plenty to do, but you're not overrun by crowds. The shops and restaurants are busy and vibrant, but the people always have time for a chat and old-fashioned Southern hospitality. The traffic is fine, with drivers comfortably acclimated to cyclists and tourists. And the dynamic downtown is a model for urban areas around the country.
The real question is, what's not to love about Greenville?
About the Author: Cheryl Rodewig is a storyteller and creator — for brands (content marketing) and her life (travel). See more of her travel stories on Twitter at @cherylrodewig or online at cherylrodewig.com.
Featured Vendor

Get Hertz Discounts
Subscribe to Our Blog!
Like Us On Facebook