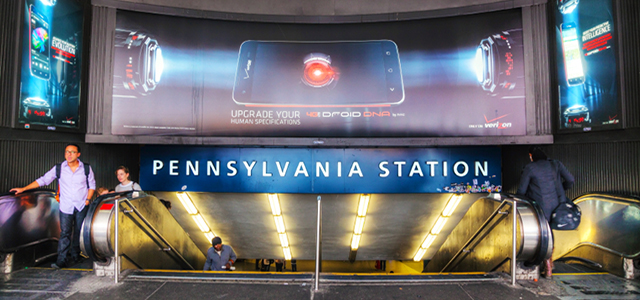 4 Things to Know About Taking an Amtrak Train From NYC's Penn Station
When you live outside of New York City you don't always necessarily think that traveling by train is the easiest and fastest way to get to a destination. But New Yorkers know that is, especially if you're going to a city that's close by. And since Penn Station is the main hub for Amtrak trains heading to Philadelphia, Washington D.C. and Boston, the station gets crowded. But thanks to a few simple tips, you'll be boarding your train like a pro in no time.

1. This isn't an airport – there's no need to get there two hours ahead of time. Get there 30 minutes before your train's departure and that's more than enough time to get your bearings and figure out where you need to be in the station (just follow the Amtrak signs).

2. When your train's gate is posted, be ready for a bum rush. Gates are posted 10 to 15 minutes before the departure time and as soon as other travelers see this, they take off running. Why? Seats aren't assigned so if they're in a group, or particular about where they sit, they want to have first pick. If you're traveling alone, expect someone to sit beside you, or for you to have to sit beside someone. The trains leaving from Penn Station at prime travel time (mornings and evenings) are typically pretty full.

3. Trust New Yorkers when they say that it's MUCH easier to take the Amtrak trains from Penn Station to cities like Philadelphia, Washington D.C. and Boston than it is to fly. There are plenty of reasons why taking the train is a better option. The top few reasons being it's cheaper, if you're in Manhattan it's much easier to get to Penn Station than to any of the city's airports (and cheaper since you don't have to take a taxi which will cost you around $60 - $70) and it's ultimately faster when you factor in the time it takes you to get to the airport, go through security and have potential flight delays. Most New Yorkers don't own cars, so driving out of town isn't necessarily an option for them, which works to a travelers favor since there are plenty of trains running to many different destinations.

4. There's a Red Cap service that will help you with your baggage, for free! (But you should definitely tip them.) In Penn Station look for the Amtrak lounge. Show your ticket to get in and in there is where you'll find the Red Cap desk. Just ask them to help you with your luggage, show them your ticket and you're all set. They'll make sure that your baggage gets on and off the train so that you don't have to worry about it. This is especially helpful when you're traveling with elderly family members, or you just simply have too many bags to manage getting on and off the train by yourself.

Main Image Photo Credit: © iStock/AndreyKrav

About the Author: Breanna Wilson is a freelance travel writer who documents her adventures on her Instagram and Twitter under the handle @breannajwilson. Follow her for more travel tips and advice.
Featured Vendor

Get Hertz Discounts
Subscribe to Our Blog!
Like Us On Facebook