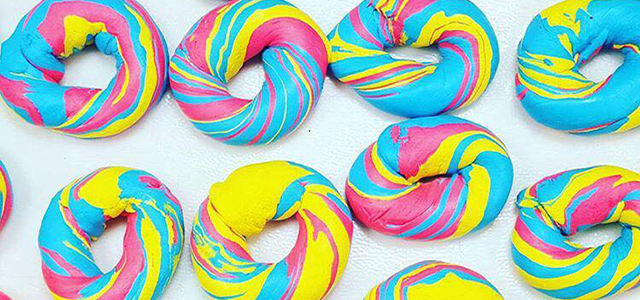 10 Instagram-Worthy Foods to Eat in NYC Right Now
NYC, a city with a fast pace and even faster food trends. From the ramen burger that caused fans to wait four hours for a burger between two noodle buns, to the Halal Guys having a chicken and rice dish that causes lines around the block, NYCers take their Instagram-worthy food trends seriously, and you should too when you visit.
1. The Tobiko cream cheese, smoked salmon and butter lettuce sandwich at Black Seed Bagels
,
Little Italy
2. The egg custard-filled buns at Joy Luck Palace
,
Chinatown
3. Ajitama Hot Ramen from Ramen Zundo-Ya
,
East Village
4. Literally anything from Tasti D-Lite (like this Snickers, cookies'n'cream swirl with Butterfinger, white chocolate, chocolate and peanut butter chips)
,
Upper East Side
5. The original "Gai Dan Jai" egg waffle and match green tea with white chocolate chip egg waffle from Wowfull
,
Smorgasburg Brooklyn (Saturdays) and Prospect Park (Sundays)
6. Rainbow Bagels at the Bagel Store
,
Williamburg
7. Frozen Hot Chocolate at Serendipity 3
,
Sutton Place/Upper East Side
8. Cotton Candy Bubble Tea at ViVi Bubble Tea
,
Lower East Side
9. Churro Cones at Dessert Club, ChikaLicious
,
East Village
10. Ahi tuna and salmon sushirritos from Pokeworks
,
Midtown
Main Image Photo Credit: Facebook.com/TheBagelStore
About the Author: Breanna Wilson is a freelance travel writer who documents her adventures on her Instagram and Twitter under the handle @breannajwilson. Follow her for more travel tips and advice.
Featured Vendor

Get Hertz Discounts
Subscribe to Our Blog!
Like Us On Facebook