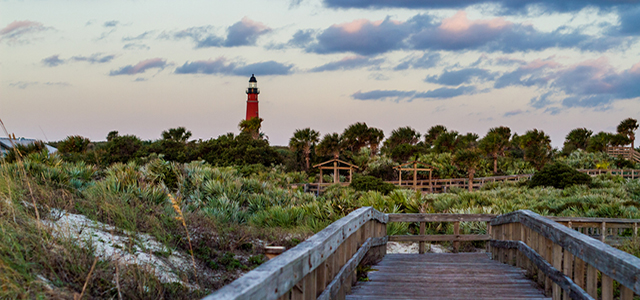 10 Ways to Tackle Daytona Beach, Florida
Let's venture to Florida's "Fun Coast," full of sandy beaches, sunny skies and tons of endless summer activities to enjoy. One of the best towns that fully embraces an entertaining vibe is Daytona Beach. Cruise along with the top down, snack on fresh seafood and hit the beach in style.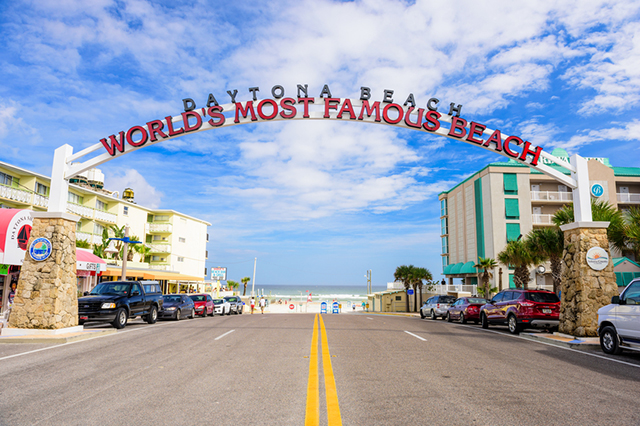 Photo Credit: © iStock/Sean Pavone
Simply Relax at the Beach
Daytona Beach became famous for its motorized races that took place on the hard packed sand along the miles of coastline. These days the competitions often take place on tracks, but occasionally they will host classic races on the beach. You can drive your own car right onto the sand, or opt for some of the quieter spaces just for sunbathing nearby. The stretch is 23 miles long, full of water sports, beach volleyball and prime swimming conditions too.
Tour the Daytona International Speedway
Since 1959, the track at Daytona has been home to superstar racecar drivers who opt for the coveted first place glory. People can grab tickets to the Daytona 500, Coke 400 or various other events during the year. Otherwise, there are regular tours of the stadium and special meet-and-greet events for fans who want to know more about this iconic venue.
Ride During Bike Week
Every March (and then again in October) all types of motorcycle enthusiasts descend upon Dayton for a crazy week of revving engines and fun. Even if you don't own a Harley it's well worth coming to visit and indulging in this spectacle. Enjoy specials at the 'biker' bars, see incredible parades and even take a spin if you're lucky on some of these two-wheeled beauties.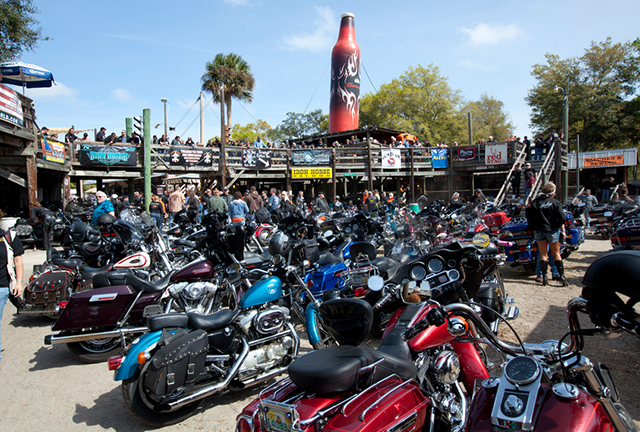 Photo Credit: © iStock/Aneese
Bike the East Coast Greenway
While Daytona is often known for its motorcycle scene, it also boasts some sunny paths for the non-motorized varieties. The east Coast Greenway stretches along the entire coast for thousands of miles, but the trail around Daytona has some of the prettiest views, along the riverfront.
Explore the Daytona Flea Market
Get your haggle on at this massive marketplace, full of special and unique finds for the discerning eye. It's been voted one of the top markets in the country for its diverse array of vendors and offerings. Grab anything from local artwork and jewelry to gourmet coffee and surf gear.
Have a Bite at the Cellar
There's no better place to have creamy lump crab risotto or fresh shrimp cocktail then the Cellar. It's a wonderful splurge-worthy spot for an elegant dining experience in the heart of Daytona. If you're looking for something a bit more casual, Caribbean Jack's is your best bet for fruity drinks and fried seafood.
Sail Smooth
Getting out on the water surrounding Daytona Beach is pivotal to a trip there. Whether you sail yourself down the coast or are looking for something chartered, there's a million options for nautical fun. Sail for an hour or the whole day, enjoying some paddle boarding, snorkeling or simply the wind in your hair.
Explore the Oceanwalk
The Oceanwalk encompasses a large area of Daytona Beach where all the action is happening. Tucked between several large hotels and holiday condos, there are a series of fabulous restaurants, entertainment options and arcade-like game centers for the kids.
See the Ponce de Leon Lighthouse
Away from the hustle and bustle of Daytona is Ponce Inlet – a beautiful outcrop of beach and attractions only a short drive from the city. At the tip of the inlet is a grand lighthouse that has stood tall protecting the coast since 1887. You can admire the lighthouse from the ground or climb to the top for sweeping views of surrounding sea and sky. There is also a small museum on site.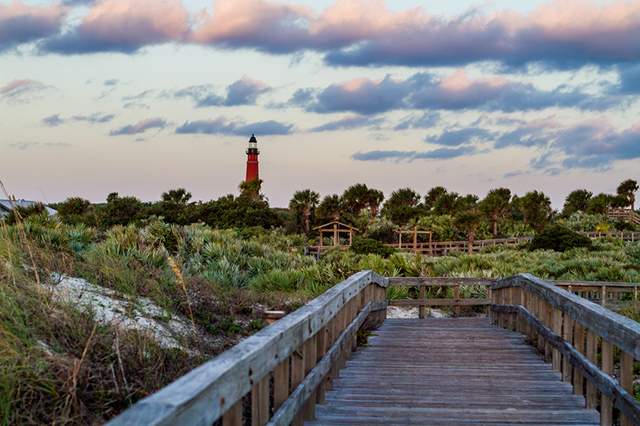 Photo Credit: © iStock/benjaminjk
About the Author: Eileen Cotter Wright is a Boston, MA expat living in London, UK as a freelance writer and owner of group travel site PureWander.com. Despite losing her passport the first day she left her home country, she's continued to roam the earth with gusto for about a decade. You can keep up with her hot mess adventures on her personal blog CrookedFlight.com.
Featured Vendor

Get Hertz Discounts
Subscribe to Our Blog!
Like Us On Facebook