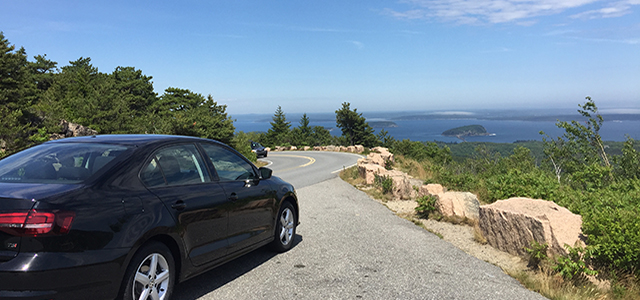 10 Things You Definitely Don't Want to Miss On Your Coastal Maine Road Trip
Acadia was at the top of my bucket list for many years, and I was finally able to experience the rugged beauty of Maine's most visited attraction. This National Park is celebrating its centennial and my husband and I were eager to hit the trails and soak up the New England charm on our long-weekend getaway. As soon as we got off the plane, we headed straight to
Hertz
and, within a matter of minutes, we were in a brand new Volkswagen Jetta. Thanks to my husband's
Hertz Gold Plus Rewards
status, we didn't have to wait in line or spend time getting the car. We zoomed past the airport exit and off we were on our adventure!
1. Bar Harbor
The VW was impeccable, and the new car smell intoxicating, but so were the views on our drive up to Bar Harbor, two-and-a-half hours from Portland. As we approached the coastal town on Desert Island, we found ourselves relaxed by the cool breezes and the gentleness of the people. The rows of restaurants and shops were buzzing, as fellow travelers walked the Shore Path, taking in the harbor views dotted with lobster boats, sailing schooners, and cruise ships. But after a long ride, we needed replenishments, so we headed to the West Street Cafe where we enjoyed their specialty lobster mac & cheese and a refreshing blueberry margarita. Needless to say, I had to hand over the keys to my husband for the drive back to the
Hampton Inn in Ellsworth
!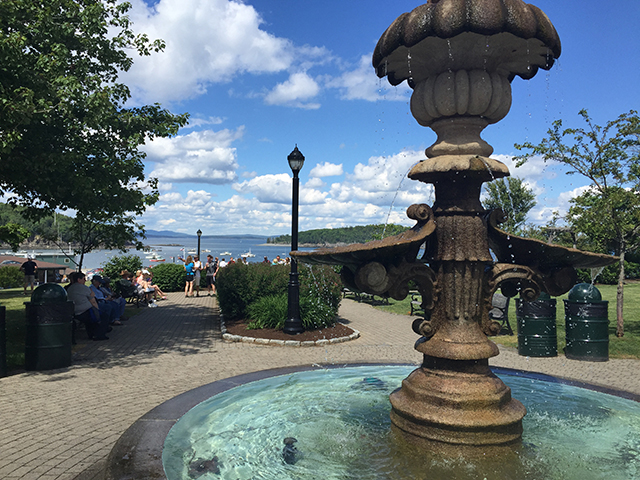 2. Jordan Pond
Just half an hour from our hotel awaited Jordan Pond, Acadia's deepest and clearest lake. There's an easier trail around the pond that takes two hours, and a much harder shore trail through the Bubble Mountains. We opted for the simpler option, and boy was it worth it! As the fresh morning air filled with the scent of pine, the path first led us over a narrow boardwalk that transformed into a natural trail. A beautiful view of mountains and sparkling water was at every turn. No swimming or wading is allowed in the pond as it is a public water supply. Being the most dog friendly Park in the country, we were delighted to meet so many doggies enjoying their day out. We even borrowed one for a photo.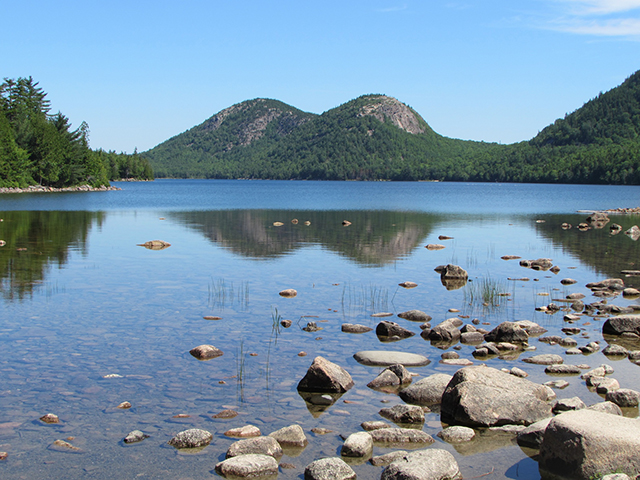 3. Jordan Pond House Restaurant
Let's be honest, we picked this hike so we could try the nearby Jordan Pond House, rated as one of the best National Park restaurants. This sprawling country establishment serves chowders, lobster rolls, and its signature baked popovers and tea. The restaurant dates back to the late 1800s, when teahouses were popular among visitors. Hungry from our hike, we devoured the popovers with the best blueberry jam we ever had, clam chowder, and a refreshing blueberry soda to wash it down. Yup, everything in Maine has blueberries! The restaurant gets very crowded, so if you don't have a reservation, the wait to sit outside could be up to a half hour. Thankfully there was no wait to enjoy indoor dining.
4. Cadillac Mountain
As much as we would've liked to burn off the calories from lunch on another trek, we decided to get back in the car for a drive up the summit road to Cadillac Mountain, Acadia's tallest mountain and the highest point on the Atlantic Coast (and the best place to catch the first rays of the Sun in the country). From the top, we witnessed spectacular views of Bar Harbor and Frenchman Bay, walked around, and sat on a rock to meditate. Selfies are allowed, but please exercise caution.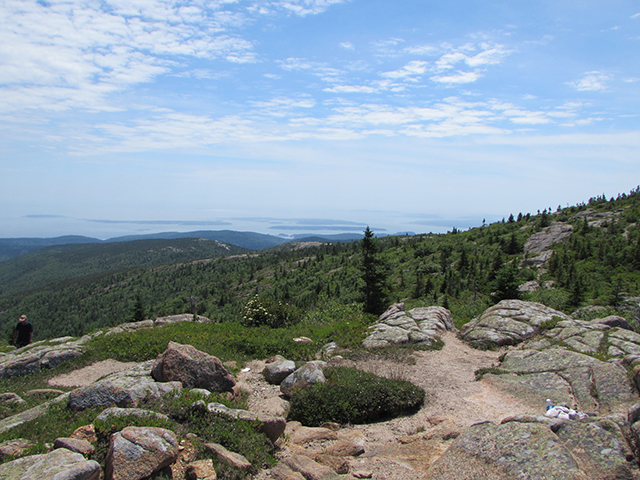 5. Park Loop Road
Riding along the 27-mile Park Loop Road is the best way to experience Acadia. This one-way stretch takes you to popular sites, including Sand Beach, Thunder Hole, and Otter Cliff (a classic stop offering a 110-foot-high granite precipice with one of the most stunning ocean views on the East Coast). We started our drive at the Hulls Cove Visitors Center, where we obtained a pass, then snaked our way to the east side of Mount Desert Island, stopping whenever we pleased to take in the views. Cell service here was spotty, and it was probably for the best, as we truly went off the grid to enjoy everything the granite shores of Acadia have to offer.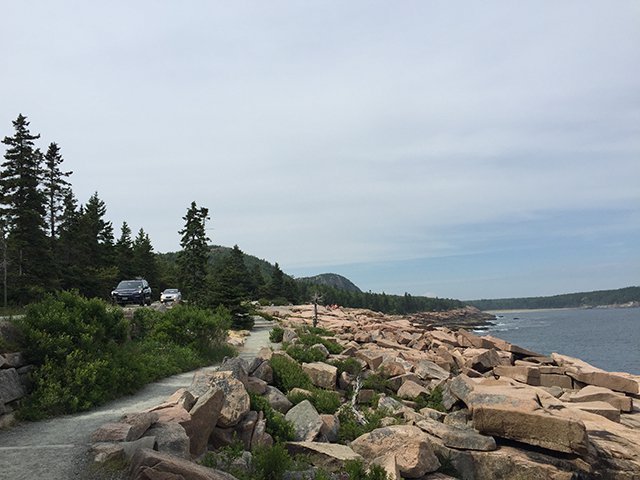 6. Bar Harbor Cellars Winery and Sweet Pea Farm
Following our incredible drive, we headed on Route 3 to Bar Harbor Cellars, which offers five-dollar tastings in a barn-like retail store. The tasting room on Sweet Pea Farm features foods and samples of their excellent whites, reds, and fruit wines made onsite. Of course, the blueberry wine is their best-seller. I was delighted to learn that the farm is named after a rescued cow, Sweet Pea, who in her time there loved following the owner and munching on her namesake.
7. Portland Head Lighthouse
After spending a few days exploring Acadia, we were ready to head back down the coast to Portland. There are six lighthouses within driving distance from the city center, and we ventured to Cape Elizabeth, where the most photographed lighthouse in the country stands. The best time to visit is early mornings and evenings when the number of tour busses are at a minimum. Besides the stunning lighthouse overlooking the water, we couldn't help but fall in love with the oceanside cliffs, beautiful flowers, and picturesque views of nearby lighthouses.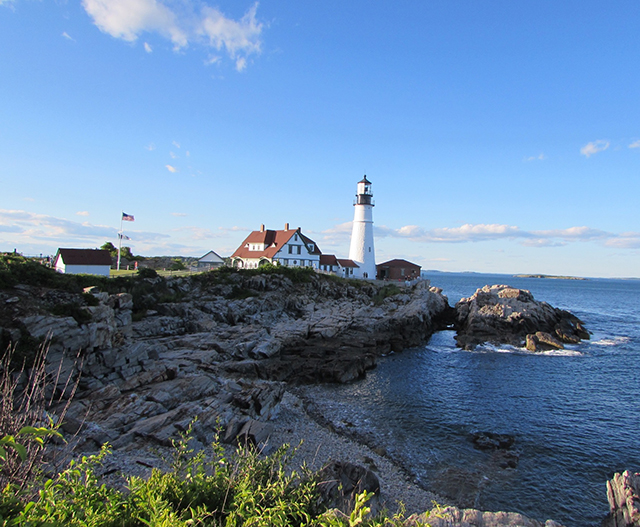 8. Willard Beach
A short drive from the Portland Head Lighthouse lies the most amazing beach you'll ever find. Ok, if you are a dog lover, that is. Dozens of local residents wait until 7 p.m. to bring their beloved pooches to this crescent shaped beach with soft sand and gentle waves. The moment we stepped onto the beach, we were surrounded by tail-wagging dogs and even a little pig named Hamuel. There was non-stop action, as people ran after their energetic canines, and water-loving dogs chased after sticks. We couldn't wipe the smiles off our faces the entire time, and, to add cream to this blueberry pie, we arrived just in time to watch the sun disappear beyond the sailboats, a vision straight out of a painting.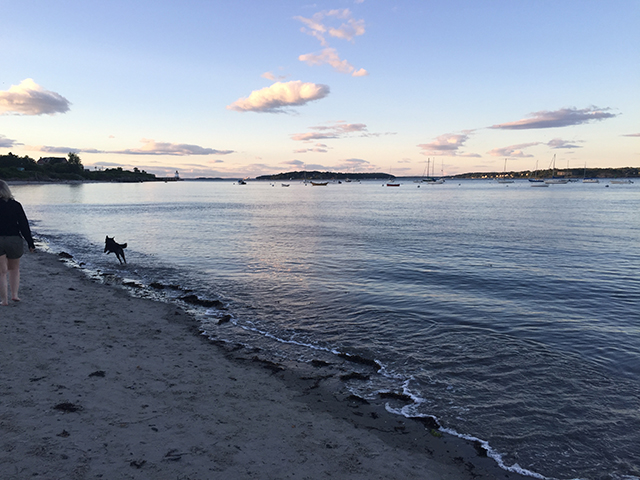 9. Mailboat Tour of the Islands
No trip to Portland is complete without visiting its surrounding islands. We parked our rental at a lot near Old Town and walked to the ferry station where we boarded Casco Bay Lines. The ferry is an actual, working boat that delivers mail and supplies to the islands of Little Diamond, Great Diamond, Long Island, Cliff Island, and Chebeague Island. The boat's crew work hard to ensure that each stop is as swift and efficient as possible, while allowing passengers to truly enjoy themselves on this one-of-a-kind voyage. Just like everything else in Maine, the mailboat is also dog-friendly, and it's hard not to make friends with these seafaring furballs. Keep on the lookout for wake divers when departing each island.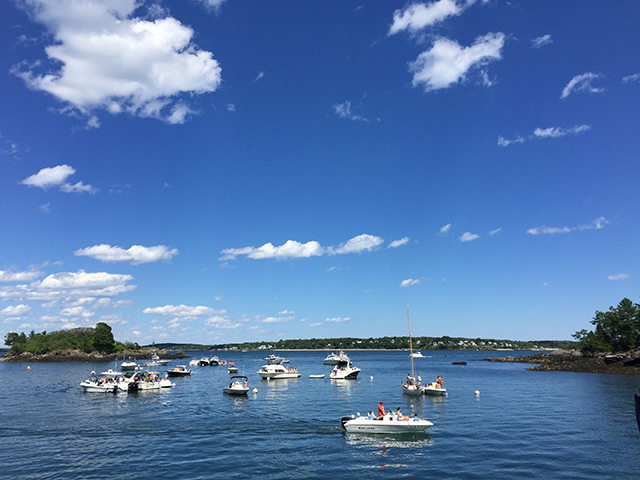 10. Old Port and DiMillo's
Once we were back on land, we stretched our legs and strolled along the harbor of Old Port. This former trade center now boasts plenty of seafood restaurants and intriguing shops for both tourists and locals alike. For dinner, we put our names down at DiMillo's on the water, the legendary floating restaurant famous for its fresh offerings and spectacular views. The blueberry cobbler is simply divine! While the ship itself is moored, you'll feel like you're on a luxury liner docked on the shores of Maine's majestic capital city.
Grab your hiking boots and bring an appetite for adventure and blueberries on your next trip to the Pine Tree State.
About the Author: Lavanya Sunkara is a writer based in New York. Her love of adventure has taken her all over the world from Australia to Zanzibar. When she's not traveling, she's hiking with her dog, and planning her next getaway. Follow her on twitter @Nature_Traveler. Read her articles at www.nature-traveler.com.
This post contains references to products from one or more of our partners. We may receive compensation when you click on links to those products. For an explanation of how ABN works, visit this page.
Featured Vendor

Get Hertz Discounts
Subscribe to Our Blog!
Like Us On Facebook