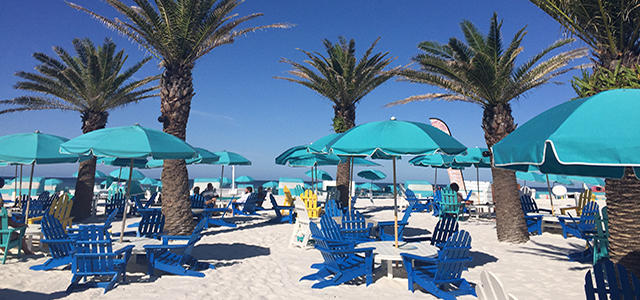 10 Things to Love About Clearwater Beach
It's the beach. It's gorgeous. And there's truly something for everyone. This isn't the Clearwater Beach you thought it was, this is the
new
Clearwater Beach. Here's everything you're going to love about it.
1. Stone Crab season.
From October 15th to May 15th it will be hard to resist the temptation of Stone Crab claws at restaurants up and down the Florida coasts. Especially when it's Stone Crab Festival weekend in Clearwater, which is usually the first or second weekend after the season starts. These small, medium or colossal sized claws aren't exactly cheap, but man do they live up to the hype.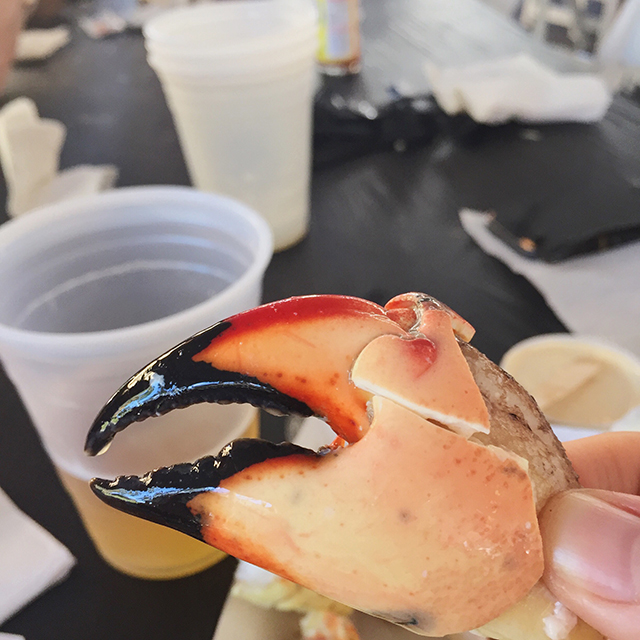 2. The craft brewery scene.
From 7venth Sun Brewery to Dunedin Brewery, craft brewing has taken over the Clearwater area. 7venth Sun's outdoor seating and patio make it a great place to hang out with friends and test new brews while Dunedin's live music make it impossible to have a bad time when stopping in. Both are the place to be seen at on a Friday or Saturday night in the Clearwater area.
3. The sunset festivals.
Any town that celebrates its magnificent sunsets on a daily basis with drinks, cheering and a party is my kind of place. The best festival in town? That's easy, Pier 60's.
4. The grouper sandwiches at Frenchy's Original Café.
Frenchy is the first one to tell you that they have the best grouper sandwich in Clearwater. And after several grouper sandwich taste tests, I have to agree. Go for the Cajun version with a side of garlic crab fries and you'll see exactly what I mean.
5. Parasailing.
It's true, you can parasail in just about any beach town. It's a pretty cliché travel experience. But, parasailing in Clearwater Beach? The views can't be beat and neither can the photos, so why not just go for it.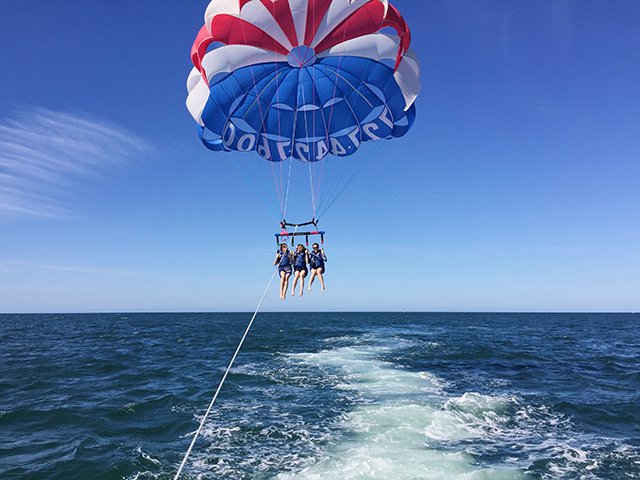 6. The white sand and clear water.
Florida's beaches are famous for a reason and Clearwater Beach is no different. Attracting tourists from all over the world, Clearwater's sand is that soft fine white sand that dreams are made of. And the water? It's just as impressive.
7. The free beaches are already lined with umbrellas, cabanas and chairs.
Clearwater Beach is 100% free to access – score! And the best part is that umbrellas, cabanas and chairs are already set up on the beach so you don't have to worry about bringing your own. Cabana sets and umbrella sets can be rented for roughly $25 a day or $125 a week. It's also important to note that Clearwater Beach is one of the only beaches in Florida manned with lifeguards every day of the year. Talk about a beach that has everything!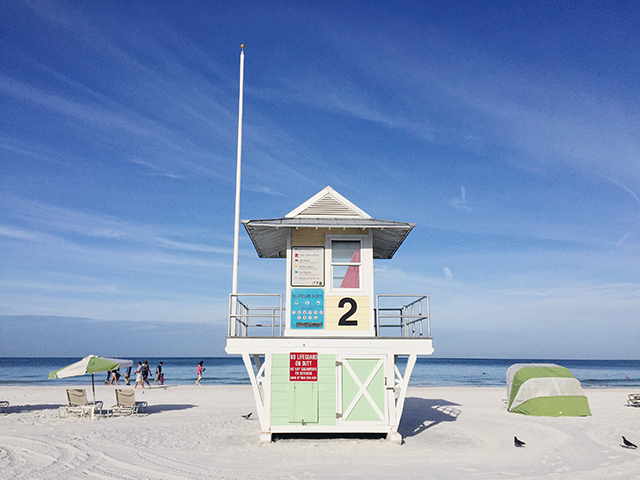 8. The indoor surfing.
Thanks to Surf Style, you can now hang 10 indoors. For $24 you can spend 30 minutes riding waves on the indoor wave machine. A great alternative to the real thing, especially when those infamous afternoon showers hit!
9. The people.
Coming from New York City I think that everyone outside of the city is nice. But it's really true – Clearwater Beach is home to some of the nicest locals I've ever met. They were more than willing to help with directions, brag about what makes their hometown great and just generally go out of their way to make sure that you're taken care of.
10. The endless brunch buffet at Island Way Grill.
This brunch buffet is probably the largest I've ever seen, and I've seen my fair share of brunch buffets! There was sushi. There were oysters. There was shrimp. There was bacon. There was blueberry blintz. There were omelets. There were waffles. There was a dessert room. That's right! A whole room dedicated to just desserts! Yeah, I think you see what I mean.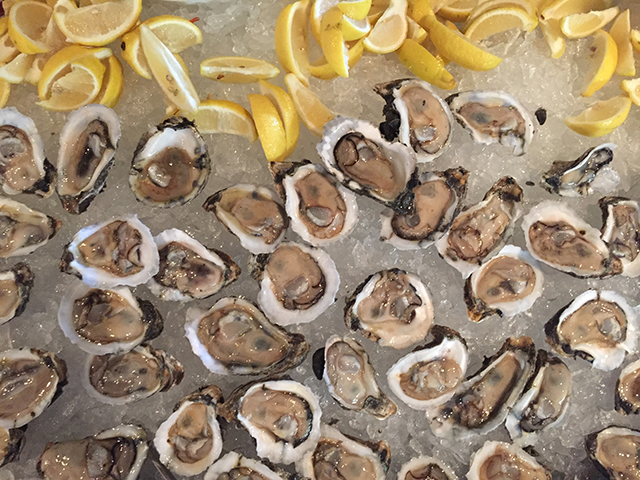 About the Author: Breanna Wilson is a freelance travel writer who documents her adventures on her Instagram and Twitter under the handle @breannajwilson and on her blog BreannaJWilson.com. Follow her for more travel tips and advice.
This post contains references to products from one or more of our partners. We may receive compensation when you click on links to those products. For an explanation of how ABN works, visit this page.
Breanna's stay was sponsored by the city of Clearwater Beach. Opinions are all her own.
Follow my blog with Bloglovin
Featured Vendor

Get Hertz Discounts
Subscribe to Our Blog!
Like Us On Facebook