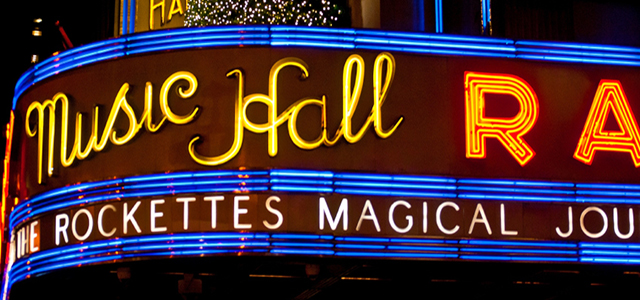 10 Must-Do New York City Holiday Activities
There's nothing more festive than being in New York City for the holidays. The snow covered streets, twinkling lights, ringing Salvation Army bells, and elaborate department store displays are a feast for the senses. Whether you are entertaining guests or taking in some holiday cheer on your own, here is a guide to happening attractions around the city that never sleeps.
1. Top of the Rock Observation Deck
The Rockefeller Center Christmas tree is a must-see. Many come from far and near to witness the magic of this majestic Norwegian spruce. Enjoy the skating below or go to the Top of the Rock's indoor and outdoor observation deck, 70 stories above for panoramic views of Manhattan and beyond. Enter 30 Rockefeller Center on 50th Street (between 5th and 6th Avenues).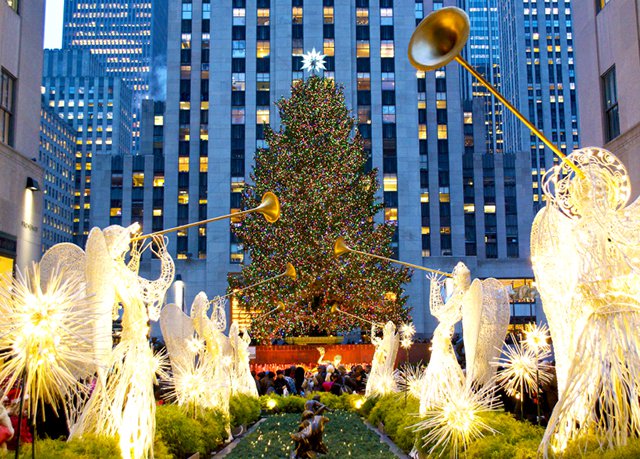 Photo Credit: © iStock/Luke Abrahams
2. Skating in Wollman Rink
Ice skate under the stars at this iconic rink located on the East Side of Central Park. With an iconic skyline on one side and snow covered trees on the other, glide away with joy to the tune of festive songs. End your evening with frozen hot chocolate at Serendipity 3, just a few blocks away on 60th Street (between 2nd and 3rd Avenues).
3. The Origami Holiday Tree at American Museum of Natural History
Volunteers began working in March to complete the 800 origami animals that adorn the awe inspiring holiday tree located in the main hall of the museum. This year's creation features mighty and microscopic life. Origami creatures are modeled after two current exhibits -- The Secret World Inside You and Life at the Limits: Stories of Amazing Species -- alongside the Museum's newest attraction, the Titanosaur, (which will be unveiled January 2016). Volunteers from OrigamiUSA will be available to teach paper folding techniques to visitors of all ages.
4. Radio City Christmas Spectacular
Catch one of the most beloved live shows at Radio City Music Hall, featuring the world famous Rockettes. The performance is fun-filled, with musical numbers including the legendary "Parade of the Wooden Soldiers," and a stunning reenactment of the very first Christmas in the "Living Nativity." Go along on a magical sleigh ride with Santa to his workshop at the North Pole where playful rag dolls come to life. The venue is located close to Rockefeller Center at 1260 Avenue of the Americas. Tickets start at $45.
5. Menorah Lighting
Near Central Park, on the corner of 5th Avenue and 59th Street, behold the lighting of the world's largest Menorah in celebration of Chanukah. Standing 32 feet tall and weighing 4,000 pounds, this golden candelabra with oil lamps for wicks grandly takes the spotlight from December 6th through 13th. The eight nightly ceremonies are accompanied by folk dancing, live music, and sufganiyot (jelly doughnuts).
6. Christmas at South Street Seaport
For holiday shopping downtown, head to the South Street Seaport (between Fulton and South Streets) where a 60 feet tall Christmas tree, a happening holiday market selling distinctive apparel, jewelry, decorative goods, and much more await. Performances by The Mistletones spread holiday joy while strolling among the holiday shops, with a blend of a cappella harmonies, custom caroling, witty banter, and family-friendly interaction.
7. New York Botanical Garden Train Show
Escape to a mini New York City for a holiday tradition that's been going on for 23 years. Housed in the Garden's Conservatory, the train show features an extensive collection of model trains chugging past replicas of landmarks, including the Brooklyn Bridge, Statue of Liberty, and Rockefeller Center, re-created using bark, leaves, and other natural materials. Rain or snow, take your whole family for a saunter through this indoor green city. Take Metro North's Harlem Line, get off the Botanical Garden stop, and walk across the street to the pedestrian entrance.
8. Bronx Zoo Holiday Lights Festival
Illuminated animal sculptures, nighttime sea lion feedings, reindeer and camel exhibits are the highlights of this festival, which draws people from all boroughs. Visit the indoor and outdoor exhibits, make s'mores on grills near the Dancing Crane Café, and have an overall wild time. Several popular exhibits including the World of Reptiles, the Monkey House, and the Children's Zoo remain open for your enjoyment.
9. "The Nutcracker" at Lincoln Center
Be dazzled this holiday season by George Balanchine's "The Nutcracker," performed by the New York City Ballet at Lincoln Center. Mischievous mice are foiled by toy soldiers, ballerinas reveal the enchanting Land of Sweets, and grand sets and costumes transport you to a magical world. Be sure to purchase a nutcracker ornament souvenir from the gift shop.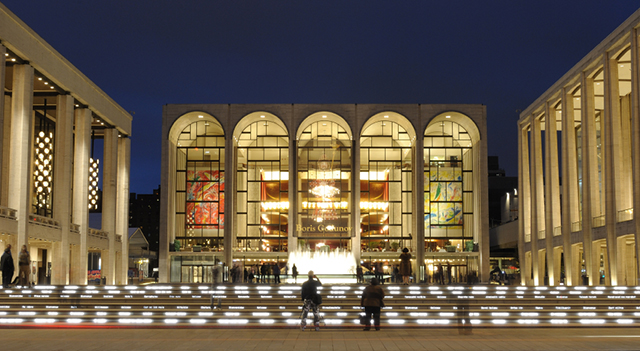 Photo Credit: © iStock/Sean Pavone
10. New Year's Eve at the Knick
If you are seeking a once-in-a-lifetime experience watching the Times Square New Year's Eve Ball drop, look no further than the stunning, re-born Knickerbocker Hotel, which recently opened its doors after its closure in 1921. Located right on Broadway overlooking Times Square, you'll be a mere 150 feet from the Ball, close enough to feel the shimmer of its 2,688 Waterford Crystal lights and the warmth of the crowning fireworks displays. Make a reservation for dining and dancing at Charlie Palmer; then find your way up to the uber luxe St. Cloud rooftop bar for incredible views. Bring in the New Year sipping signature martinis, listening to live music, away from the crowds.
Happy Holidays!
Main Image Photo Credit: © iStock/Andrew F Kazmierski
About the Author: Lavanya Sunkara is a writer based in New York. Her love of adventure has taken her all over the world from Australia to Zanzibar. When she's not traveling, she's hiking with her dog, and planning her next getaway. Follow her on twitter @Nature_Traveler. Read her articles at www.nature-traveler.com.
Featured Vendor

Get Hertz Discounts
Subscribe to Our Blog!
Like Us On Facebook