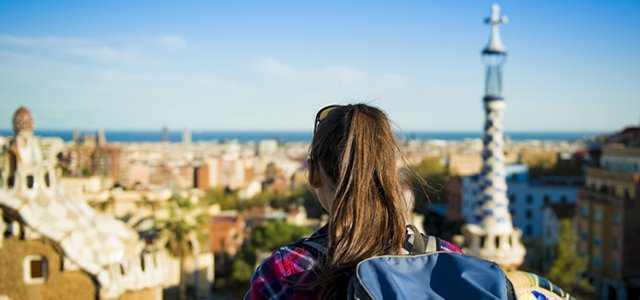 Top Tips for Saving Money on Travel
Traveling is fun. It offers a chance to discover new cultures, to meet new people, and to see amazing places. It's even beneficial to our health, with a positive impact on people's mood, as a
study by the Global Coalition on Aging
revealed. But it can also be quite challenging to manage your budget while you're planning your trip and also to save money when you're on the road. Here are some tips we think will help!
How to Save on Flights
Many people turn to flights for their vacations. If you too prefer to fly, then pay attention to these details and you just might save yourself a few dollars or more:
Choose a midweek flight.
Usually these are cheaper than the weekend alternative. So, be flexible with your flight schedule in order to get the best offer.
Credit card and airline miles and perks.
If you are a frequent traveler, use your miles and perks when you can. Be smart about purchasing when there are opportunities to earn 2x or 3x your points, and keep an eye out for deals from airlines to get more from your points.
Book in advance.
This is a no brainer, but book at least four weeks in advance for domestic flights and six to eight weeks in advance to get a fair price for your ticket. Apps like
Hopper
are a great resource to see when the best ticket prices will be available and the best time to book.
Use fare alert websites to look for deals.
Websites like AirfareWatchdog.com offer a great
fare alert email notification system
to let you know about airline fare deals between specific cities, from your main airport and more. Another great fare alert website to use is
FareCompare.com
.
Things to consider after you've booked:
If you booked with a low-cost air carrier, research their baggage fees, seat preference fees, boarding pass printing fees, etc. You might be able to save some money by printing your boarding pass at home, downsizing your suitcase from a large checked bag to a carryon bag and more. Websites like
RouteHappy.com
and
SeatGuru.com
are more great resources to use when flying – both can tell you more information about your specific flight like if there's Wi-Fi available, the amount of legroom, flyer photos and reviews of what other travelers thought of the flight.
How to Save on Hotel Accommodations
You have two options here: book in advance or turn to last minute offers.
Booking websites like
TravelZoo.com
are a great place to start when looking for discounts by booking in advance. You can search the destination for your specific travel dates and they display the discount right before your eyes. Discounts can be as small as just a few dollars or as much as a couple hundred dollars.
Compare! Compare! Compare!
before booking to make sure you're getting the absolute best deal available.
It's also a little known tip that hotel chains like
Choice Hotels
have a standing offer of up to 20% off when you book in advance. To get the best discount, book at least 30 days in advance directly with Choice.
Intercontinental Hotel Group
has the same type of offer, offering 10% - 30% off when you book at least 14 days in advance. The earlier you book, the more you might be able to save.
For a last minute booking, apps like
Hotel Tonight
and the
Hotel.com
app are great tools to have handy on your smartphone. If a hotel has inventory available for the night, they'll list it for discounted rate on the apps, and you can get a 5 star hotel for one or a few nights at a fraction of the cost.
A travel expert tip:
While a hotel located outside of a city's central area might seem cheaper up front, that's not always the case. Take into consideration ticket prices for public transport or parking prices if you're traveling by car.
When to Travel
This can be a sensitive topic, as it's a matter of preference. In most cases, it's cheaper to fly and travel in general during a destination's off season. And the best part? That usually means it will be a lot less crowded as well.
But if your heart is set on traveling during the peak of the destination's season, try to at least avoid traveling during a special event. Unless of course that's your entire reason for going. For instance, don't book your travels during a fashion week, which could mean crowds and higher than normal prices.
Travel experts suggest:
Traveling just before and just after the high season hits can be a great way to experience everything that the destination has to offer for a fraction of the price. You'll typically have to fight less with the crowds and prices won't be at their peak. Really, it's a great way to travel and save money.
Alternative Means of Transportation
Sometimes, especially if you are traveling as a family or with some friends, it can be more beneficial to rent a car or book train tickets instead of choosing to fly between destinations. Taking a ferry is also another low cost option, when available. Again, it's all about your personal preference.
Tips for Eating, Getting Around and Seeing the City for Less
Eating
Everyone's got to eat. So, how can you save money on food? First, when booking your hotel, check the prices for the breakfast and see if it is really worth the price. In some hotels it is indeed an affordable option for what you get, but that's not always the case. Eating outside the hotel in the morning might be cheaper sometimes, just consider the destination and what kind of experience you're looking for.
If you don't mind cooking, then you could think about getting a room with a kitchenette and make your own meals. Cooking breakfast, lunch and dinner for yourself can really go a long way if you're traveling on a budget.
If you're itching to get out and experience the local life, ask your hotel concierge, or just do a quick Google search, to see what Happy Hour deals might be near you. Many, especially near business office buildings, or even tourist landmarks, have hours when they offer affordable food menus and drink discounts.
Transportation
Public transportation can be useful in some parts of the world, while in other parts, it might be better to rent a car or to travel with your own car. Again, doing a little bit of research prior to your trip can be the key to saving money and time.
If you choose to go the public transportation route, check online to see if there are discount passes available. Many cities around the world offer them, and often times they can save you a little bit of money by buying a multi-day pass or other discount pass.
Another tip for making the most out of public transportation:
Try to optimize your routes. Meaning, stay in one area at a time, don't make an itinerary that takes you to opposite parts of the city and back.
Free Walking Tours
In cities around the world (New York City, Philadelphia, Cape Town, Paris, London, Berlin and the list goes on) free walking tours are a great way to see the city for free! The website
FreeToursByFoot.com
is a great resource to check out before you set out on your trip. Check that website and do a quick web search to see what tours are available during your travels and where they'll be taking you in the city.
Saving at Tourist Attractions
First, check with the attraction to see if they offer free ticket days. Many places have such days, usually the first or last Sunday of the month, for example. Keep in mind these days can get crowded since everyone will want to take advantage of this deal. Plan to go early to try to avoid lines.
Then, see which attractions throughout the city are normally free. Narrow down which attractions are the most important to you and start planning. Depending on where you are, museums and art galleries may be free to visit, and almost always parks and churches are free to visit. If you plan to visit multiple attractions that aren't free to experience, consider looking into city pass (we love
CityPASS
if you're traveling in the U.S. or Canada) and buying a pass that will give you access to multiple attractions for a discounted price. Passes may also cover some public transportation costs.
Time to Travel!
Now that you have a few simple travel saving tips on your side, you're ready to start traveling! Remember to always do your research and prepare as much as you can before you leave, that's the number one key to saving money while you're on the road.
About the author: Violeta-Loredana Pascal is a public relations and marketing specialist who also loves to travel. She shares her travelling experiences and tips at http://travel.prwave.ro. You can also find her on Facebook (/TravelMomentsInTime), Twitter (@TravelMoments) or Instagram (@violeta.loredana).
This post contains references to products from one or more of our partners. We may receive compensation when you click on links to those products. For an explanation of how ABN works, visit
this page
.
Featured Vendor

Get Hertz Discounts
Subscribe to Our Blog!
Like Us On Facebook