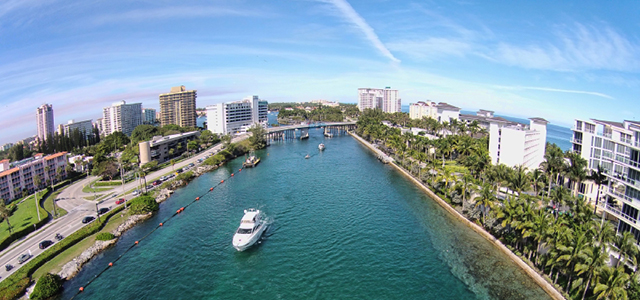 Hotel Review: Waterstone Resort & Marina, A Doubletree by Hilton
During a recent trip to the Palm Beaches, travel writer David Duran stayed at the Waterstone Resort & Marina, a Doubletree by Hilton hotel. Here's his take on the experience.
This was my first trip to the Palm Beaches and I was excited to discover the different cities that made up one of Florida's most beautiful counties. I started the trip in Boca Raton as that seemed like a logical decision and I was intrigued to stay in a Doubletree Hotel because I had stayed in many properties with that Hilton attributed brand name and although they were satisfactory, they never left much of an impression beyond adhering to the brand standards that come with a Doubletree, including the fresh cookie you get at check-in. But I had heard that this particular Doubletree was different than the rest, and fortunately the rumors were true.
The Overall Feel
This wasn't your typical big box hotel; instead it had more of a boutique feel to it. I did receive my warm cookie at check-in, although I was a bit disappointed that they didn't have a nut-free option, so my companion was happy to take a second treat. The lobby was small but inviting and the overall décor was fresh, clean and modern with ocean themes but without being overly in your face beach themed. The service from the staff was excellent, and what you would expect from any Doubletree. After a couple nights stay, I appreciated the smaller property a lot more as the boutique feel really came through and it was nice to recognize some of the staff and receive their warm smiles.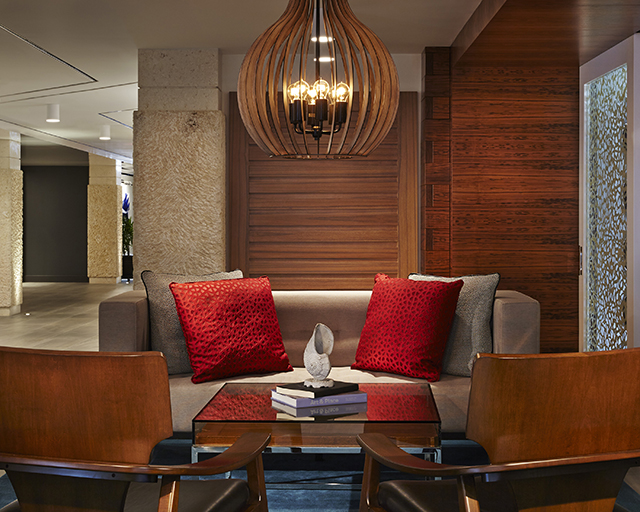 Where You Lay Your Head
The rooms are exactly what you need, nothing less, and nothing more. The 139 spacious guest rooms all feature a large private balcony with views of the water, which is exactly what one would want from a property in this type of destination. Everything in each room is very bright and white and gives off a clean feeling. The centerpiece of each room is the balcony with a view, so I understand wanting to keep the aesthetics of the room to a minimum as to showcase the views of the blue.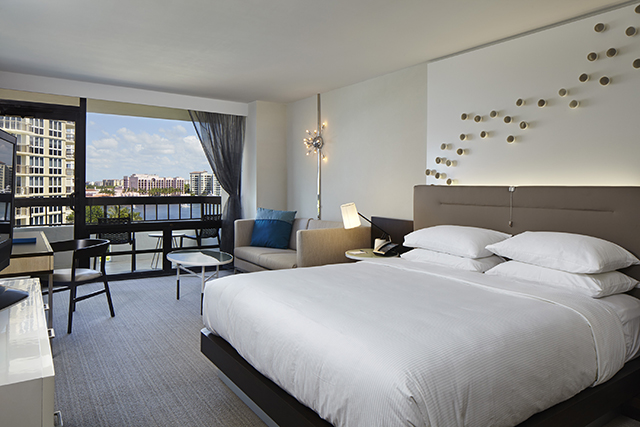 I was able to tour some of the suites in the hotel and the only difference was space, as the décor and feel to the different suites were identical to a standard room.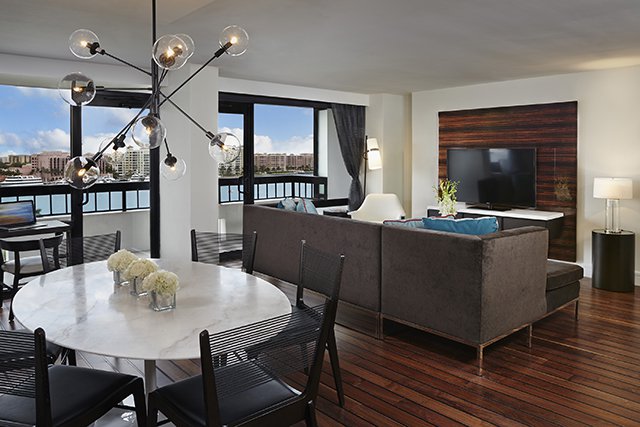 Time To Eat
Two options for guests and locals are offered at the Waterstone: casual poolside dining at the Waterstone Bar & Grill and a more upscale "on-the water" experience at their signature restaurant Boca Landing. Dining was really an area where you can tell the property placed a lot of effort in. My personal favorite was the morning breakfast spread. Exiting the elevators, you are thrust directly into a beautifully presented buffet that tempts you to not walk past it but instead spend some time really diving in to try everything the creative culinary team has to offer.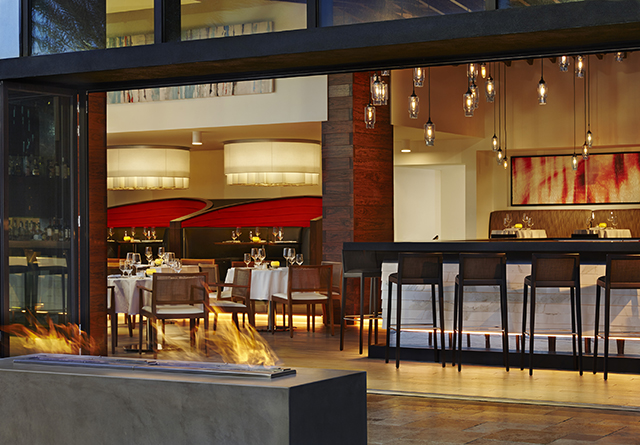 Activities Offered
Here's where the hotel stands out. If you are active and into playing on the water, one could truly never leave the property. On-site rentals include wave runners, stand-up paddleboards and kayaks. Electric boat rentals as well as night paddle tours with lights are offered. There are also plenty of group activities to indulge in such as scuba diving daily trips, sand castle building, drift and sport fishing, and a catamaran intracoastal tour.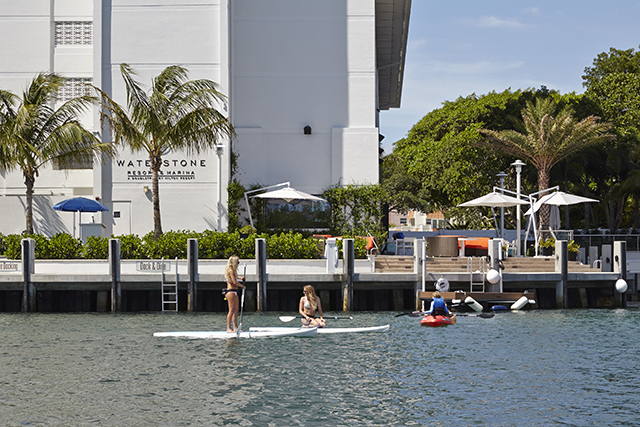 Things to Know About Boca Raton
The southernmost city in Palm Beach County, Boca Raton is an affluent community in South Florida and is about 43 miles north of Miami. Many of its residents are vacation homeowners, making the population a healthy mix of locals and tourists. Many buildings in the area have a Mediterranean revival or Spanish Colonial revival architectural theme, initially inspired by Addison Mizner, a resort architect. Boca Raton has strict development codes for the size and types of commercial buildings, building signs and advertisements that may be erected within city limits. Because of this, it at times can be difficult to locate what you are looking for, as even the McDonald's had to subdue its golden arches.
Main Image Photo Credit: © iStock/Ivan Cholakov
About the Author: David Duran is a Brooklyn-based luxury, hospitality, culinary, and overall freelance travel writer who contributes to such publications as Fodor's, Travel + Leisure, Destinations Weddings & Honeymoon, and Caribbean Travel + Life, among others. When not traveling 20-25 days a month for his work, he spends his free time planning more travel! To read some of his work, check out his online portfolio, and follow him on Instagram and Twitter at @mrdavidduran.
This post contains references to products from one or more of our partners. We may receive compensation when you click on links to those products. For an explanation of how ABN works, visit this page.
Featured Vendor

Get Hertz Discounts
Subscribe to Our Blog!
Like Us On Facebook