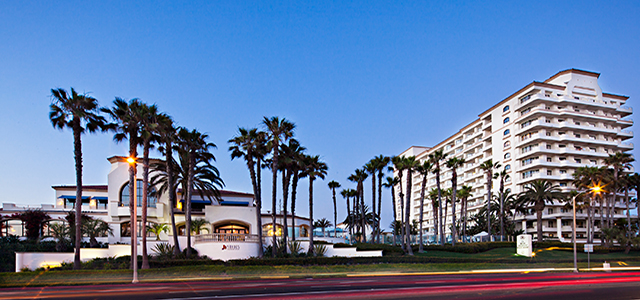 Hotel Review: Waterfront Beach Resort, Huntington Beach
During a recent trip to Maui, travel writer David Duran stayed at the Waterfront Beach Resort, A Hilton Hotel. Here's his take on the experience.
Having grown up in Orange County, California, I never thought much to vacation in or around my hometown. But after having left years ago, each time I find myself back in SoCal, which is thankfully often, I discover new things I never knew were there. Huntington Beach was always the place we went for beach bonfires, or to watch the pro surfers ride waves, but little did I know that the
Waterfront Beach Resort
was right there, front and center, in the middle of it all.
I had the opportunity to take a mini-(modern) family type of weekend vacation as I was with my best friend and goddaughter. We really didn't know what to expect and all we knew was that the property was beachfront and was a Hilton, so I kind of had set baseline expectations since I frequent Hilton properties, especially their unique properties, often.
Rooms With A View
I was excited when our reservation was booked with an ocean view room, but little did I know that all 290 rooms, including 24 suites, had some sort of an ocean view. Obviously there were direct ocean front view rooms and suites, but every guest staying here has some blue in sight, some having to turn their heads a little to experience the views. We were on the 11th floor, second to the top, and had a killer view of Huntington Pier as well as Pacific Coast Highway, as well as the pool (which sadly was shut down for renovations during our stay), down below. I wasn't too perplexed about the pool because it was a bit chilly during our stay and the hotel offered a pool next door if we got the courage to take a dip.
Our room had hard wood floors, which I thought was a nice touch and was refreshed – something I learned happened on a more routine floor cycle schedule, unlike many hotels which wait and do refreshes all at once, every few years. We had plenty of space for a crib (which they provided) and our entire luggage to fit while still being able to navigate the stroller. The bathrooms were standard and nothing over the top, but the products used were an upgrade, standard for that Hilton category. The décor was appropriately beach themed and light, and fit in with where we were.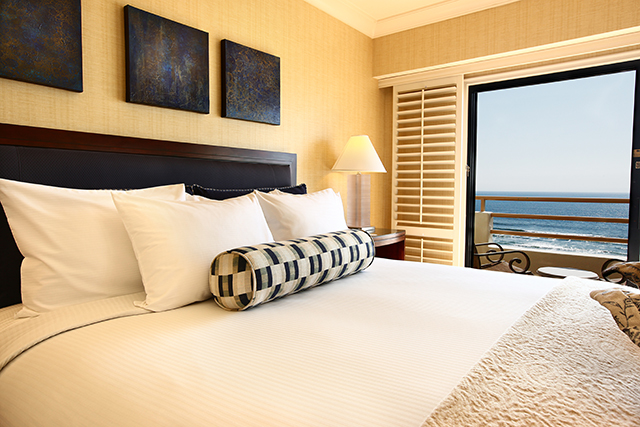 Ready To Eat
Shades is the resort's signature restaurant and is open for all three meals, each day. Additionally, there is a smaller café on property for grab-n-go service. Luckily when we got to Shades, we were hungry because the portions were huge. Benedicts are kind of my thing, so we went for the Surf Benedict, which came with smoked salmon and the Turf Benedict which comes served with braised short rib – both equally as tasty. The indoor/outdoor atmosphere was appreciated as the light breeze coming in from the beach was very much welcomed during our feast and really helped remind us of where we were.
Activities
I'm not sure a weekend stay was enough time to even begin to enjoy all the activities offered in Huntington Beach, yet alone the ones offered at the resort. Through the resort, guests are able to rent cabanas that come with a beach butler service, enjoy bonfire packages where you can roast marshmallows with friends, rent bicycles and unique cycles for some beachfront exercise as well as rent boogie boards and surf boards for some water action. Everything you could want to do is conveniently made available to you inside the resort, and just outside the doors, all within walking distance, is a plethora of additional options, like the Huntington Pier or the new Pacific City shopping/dining/lifestyle complex.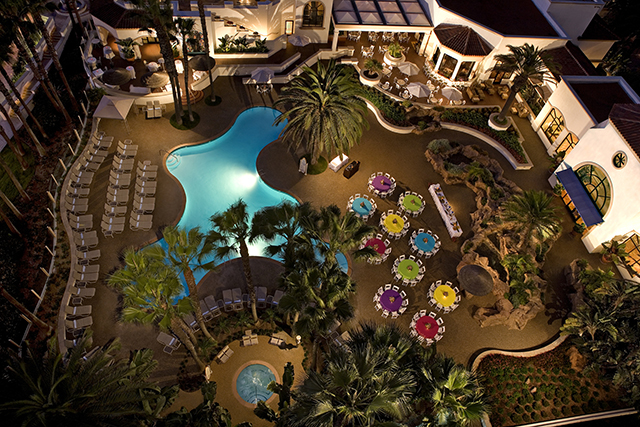 New Look
During our visit, we learned about the new expansion to the resort. Sometime in 2017, the Waterfront Beach Resort will completely transform with the addition of their all-suite tower, rooftop restaurant/lounge, new pools and new lobby. From the renderings, it's going to completely change the look and feel of this already wonderful resort, beginning with its new guest lobby and reception. The current structure will soon after transition as well, as to be cohesive with the new addition. From what I gathered, the property is wanting to dominate the "resort" part of its name, which it already has a major grasp on currently. It's an exciting expansion for both the hotel as well as the city.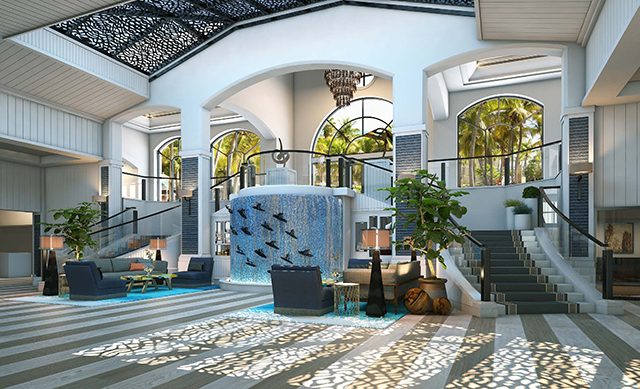 About Huntington Beach
Huntington Beach boasts about 10 miles of wide sandy beaches, gorgeous coastlines that are beyond picture worthy and a relaxed atmosphere as well as a vibrant surf culture. The city has approximately 328 days of sunshine and an average temperature of 73°F (23°C). Main Street, located blocks from the resort is the city's downtown commercial hub and has everything from quaint shops to modern complexes, pubs, bars and clubs. Since surfing dominates the city, visitors can find a surfer's walk of fame, hall of fame and international surf museum. Between the beach, the pier and the harbor, Huntington has a bit of everything for everyone and this surf city is welcoming new visitors and enhancing itself to continue to do so.
About the Author: David Duran is a Brooklyn-based luxury, hospitality, culinary, and overall freelance travel writer who contributes to such publications as Fodor's, Travel + Leisure, Destinations Weddings & Honeymoon, and Caribbean Travel + Life, among others. When not traveling 20-25 days a month for his work, he spends his free time planning more travel! To read some of his work, check out his online portfolio, and follow him on Instagram and Twitter at @mrdavidduran.
This post contains references to products from one or more of our partners. We may receive compensation when you click on links to those products. For an explanation of how ABN works, visit this page.
Featured Vendor

Get Hertz Discounts
Subscribe to Our Blog!
Like Us On Facebook