Hotel Review: Renaissance Cincinnati Downtown Hotel, Cincinnati, Ohio
During a recent trip to Cincinnati, travel writer David Duran stayed at the Renaissance Cincinnati Downtown Hotel. Here's his take on the experience.
One of my favorite cities to visit and what one-day will most likely be home, Cincinnati is a pretty awesome place. And there is no shortage of really great hotels, especially in the heart of downtown. On a recent trip to the city to attend the opening of an opera debut, I opted to stay at the
Renaissance Cincinnati Downtown Hotel
, mostly because I hadn't been there before and the location was excellent. Plus, there was something special about the lobby that just called to me, which later I found out why.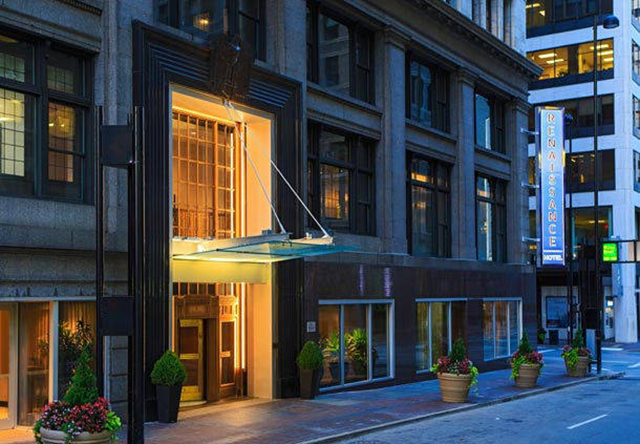 First Impressions – History
Renowned architect Daniel Burnham built the Bartlett Building in 1901, and at the time, was the tallest building in the state of Ohio. Once known as the Union Trust Building and home to a bank (the reason I love the lobby so much), the building is now listed on the U.S. National Register of Historic Places. Before it became the state's third Renaissance hotel, the building sat vacant for four years. When it was time to reopen, so much of the building's history was honored, by leaving small details intact within the lobby, nodding to its bank days. The lobby itself is not grand by any means, but that's what makes it rather special, because upon entering one can feel the history of what once was there.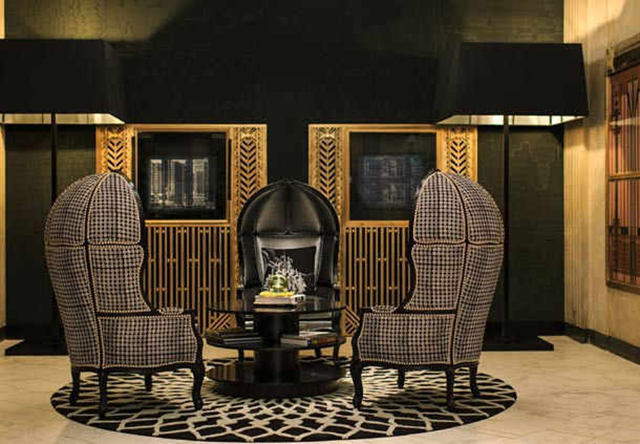 The Rooms
The 18 stories come with 323 guest rooms and 40 suites, each with a dedicated workspace. Even though the building may be historic, there is nothing historic about the décor in the rooms. Instead, a functional contemporary design welcomes guests with plush bedding and spacious, well-lit work desks. The bathrooms come with luxury bath products and the showers here are oversized and really comfortable, especially for a smaller bathroom space. The concierge level that is offered comes with a few extra perks, including concierge club access.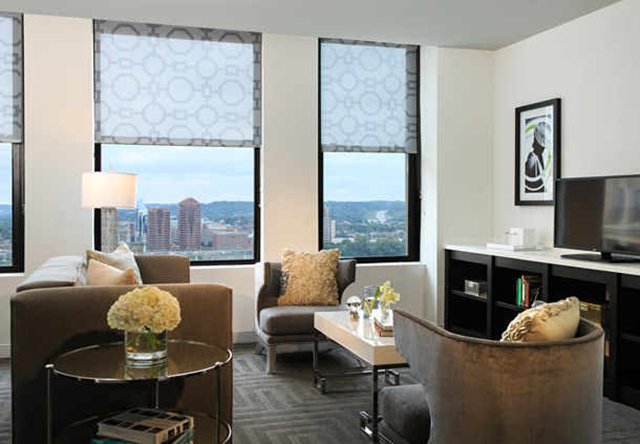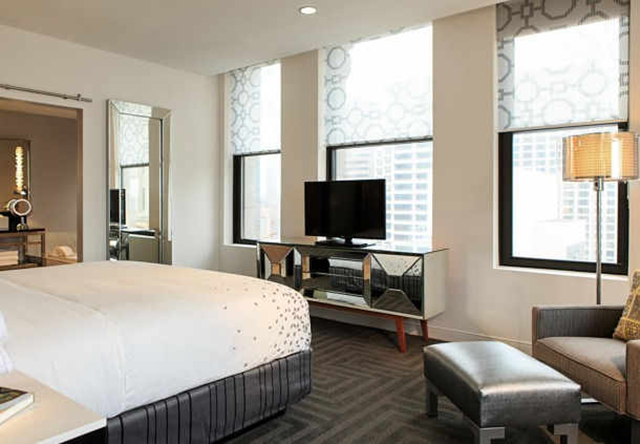 D. Burnham's
The restaurant bar here is well-known among locals and has a busy crowd both during lunch and dinner, but in the evenings, it's the bar that really comes to life and what draws folks in from the street (and lobby). The contemporary Midwestern American restaurant features locally sourced products, as well as seasonal and expertly prepared cuisine. The culinary team is focused on the guest experiencing locally sourced products, such as artisan breads, poultry, produce, beef, cheeses, pastas, and sweets. I indulged during dinner one night with the 3-hour braised short ribs that come with garlic and Parmesan whipped potatoes, roasted brussels sprouts and gremolata. I might have also sampled the four-cheese mac, which might have been heavenly (okay, I did). But it's not just the food; it's the drinks and liquor selection that make D. Burnham's so well received. Their impressive scotch, bourbon and whiskey selection would make any dark spirit connoisseur happy, and their beer list is just as healthy. The drink menu is separated into classic cocktails, classics with a twist and D. Burnham originals, the latter being my favorite section of the menu. The Burn 'Em with patron resposado tequila, fresh squeezed grapefruit, brown simple syrup and green chartreuse was a personal favorite. There is also an ever-changing house made barrel aged cocktail on the menu for those who enjoy something more unique.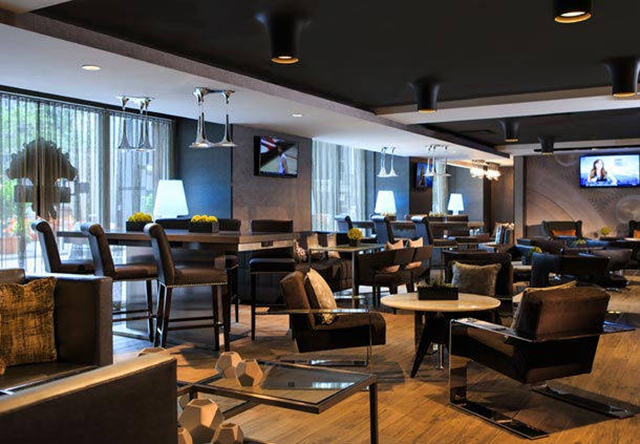 Visiting Cincinnati
Easily accessible from most East Coast cities,
Cincinnati
is stepping up its game and becoming a destination for those in the know. Those that haven't been in recent years might have a misconception of the Queen City, but just like many other second and third-tier cities around the country, they are quickly catching up. Neighborhoods are diversifying, bringing more and more locals to the actual city center, which is in turn bringing more restaurants, shops, and culture to areas that might have been lacking, but were just waiting for a little TLC. Cincinnati might surprise you, so a weekend away could be all it takes to convince you of how great the city truly is.
About the Author: David Duran is a Brooklyn-based luxury, hospitality, culinary, and overall freelance travel writer who contributes to such publications as Fodor's, Travel + Leisure, Destinations Weddings & Honeymoon, and Caribbean Travel + Life, among others. When not traveling 20-25 days a month for his work, he spends his free time planning more travel! To read some of his work, check out his online portfolio, and follow him on Instagram and Twitter at @mrdavidduran.
This post contains references to products from one or more of our partners. We may receive compensation when you click on links to those products. For an explanation of how ABN works, visit
this page
.
Featured Vendor

Get Hertz Discounts
Subscribe to Our Blog!
Like Us On Facebook