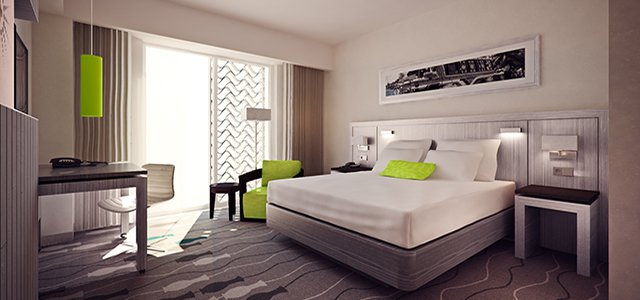 Hotel Review: Marriott Port-au-Prince, Haiti
On a recent trip to Port-au-Prince, Haiti, travel writer Breanna Wilson stayed at the newly built Marriott hotel. Here's her take on the experience.
Haiti. A diamond in the Caribbean rough. Most people these days are traveling to Haiti for business or to volunteer, either with a local orphanage, educational program or with earthquake relief groups, like Sean Penn's J/P HRO (Haitian Relief Organization). Don't let the lesser known programs like PRODEV, campJacob and Nos Petits Frères et Soeurs slip your radar if you're interested in visiting Haiti as a volunteer, these programs come highly recommended as well.
But Haiti, and Port-au-Prince in particular, is more than a destination that you should consider visiting only if you're interested in giving back. It's a place that you should consider visiting for its rich culture and historical importance. A place to experience food, to experience music, to experience art. And oh, that Haitian art – let me just tell you, it's mesmerizing!
So let's talk about where to stay when you visit. The
Marriott Haiti
is one of the first hotel chains to open a property in Port-au-Prince, the country's capital. A trend that's catching on as tourism to the country grows – which it is.
The hotel itself is a modern addition to the city, complete with a clean lobby area, modern amenities and a laid-back atmosphere. The hotel is decked out with Haitian art from local artists and all of the hand soaps, shampoos, conditioners and more are from local artisans that the hotel exclusively works with. I think it's also interesting to mention that all of the hotel's employees wear TOMS shoes, not just for the fashion, but to show their support for the TOMS factory in Port-au-Prince. A factory that's helping to provide jobs for locals and bring money into the economy.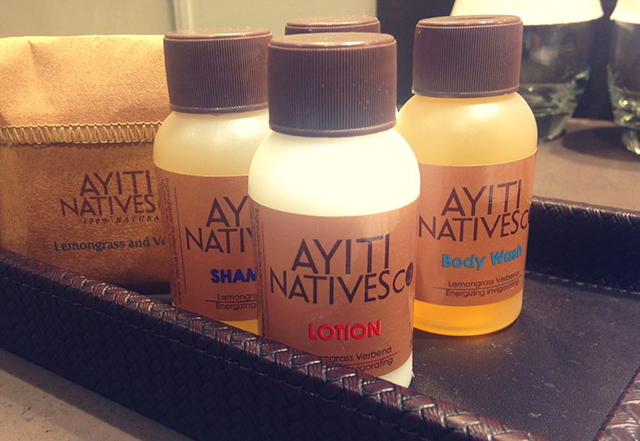 Every staff member at the hotel greeted me with a smile on their face and a willingness to help me get whatever I needed at the moment, which made my overall experience that much better. There's a special story behind these lovely people pictured below that I'm going to let you in on.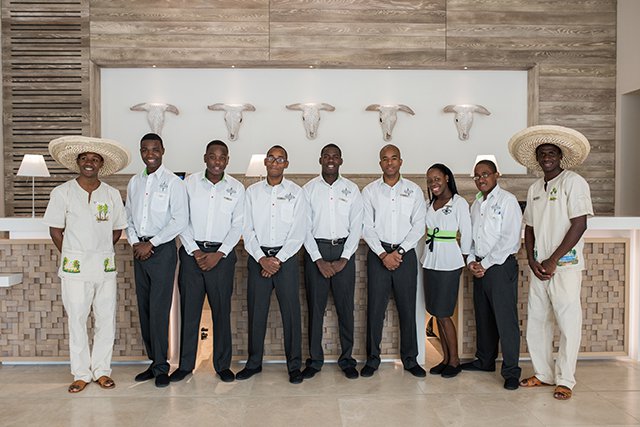 3
In a recent
Twitter chat
with the hotel's General Manager Peter Antinoph, Antinoph gave some insight into what makes the hotel stand out from others seemingly like it. They've hired locals who may not have had experience working in a hotel before, or even have any work experience in general, but instead they sought out the locals who needed a job and who wanted a job. The hotel truly is a place that's there to contribute and build the community around it.
.@oliver_gradwell 70-80% were unemployed or never worked before. We sought out those who needed a job, not who had experience... #AskPeterA

— Marriott Haiti (@marriotthaiti) August 18, 2015
.@Pbeauvais We're changing the way hotels operate by driving the country forward. Everything we do has Haiti's growth in mind. #AskPeterA

— Marriott Haiti (@marriotthaiti) August 18, 2015
Staying at the Marriott Haiti
But let's get more into my experience at the hotel. As I mentioned, the hotel is decked out from top to bottom in some of the most intricate Haitian artwork you'll find. The Vodou flags (it's Vodou, not Voodoo here) hanging in the lobby are from the Haitian artist Yves Delva, and they make up the standout piece of the lobby. It's the details like this that really tie in the Haitian culture to the hotel.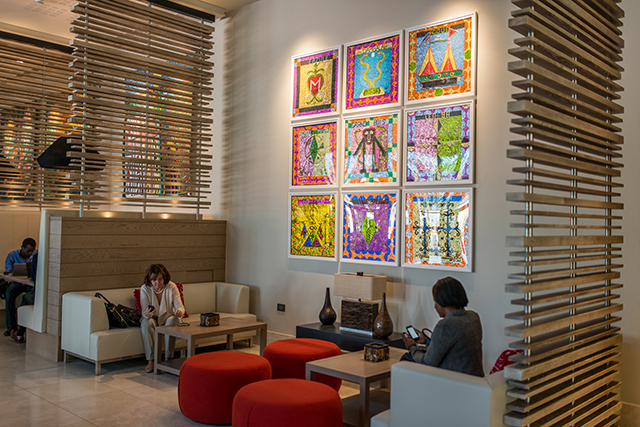 The outside pool is great for spending an afternoon, there's plenty of seating, a poolside bar and all the relaxation you can handle. When you're done with the pool, grab a bite inside at La Sirene Restaurant (try the acra!) and a drink at the gorgeous bar – a place that's not only popular with guests, but with locals as well.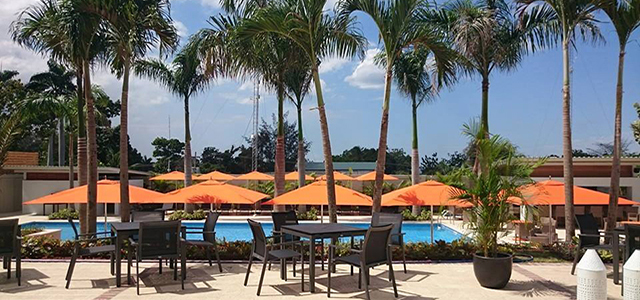 I should also tell you that each morning in the hotel lobby you can find freshly brewed Haitian coffee, my new coffee obsession, along with Haitian hot chocolate, my new overall obsession. It's thick and not overly sweet – it's a must try when you go. If you're more into sitting down and enjoying a long breakfast or brunch, there's a great buffet in the morning that offers everything that you can imagine, including a bottomless make-your-own Bloody Mary bar.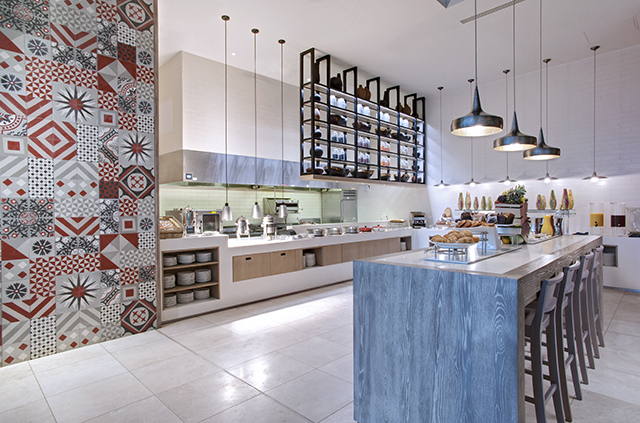 Things to do in Port-au-Prince
There's plenty to explore in Port-au-Prince. Some of my favorites included visiting the Artisans Business Network, a place that empowers local artisans and helps them to develop and grow their business; RAM on Thursday night at the Hotel Oloffson, a weekly event where locals and visitors come together to listen to Port-au-Prince's favorite band, RAM (the thing to drink at the Hotel Oloffson are their famous Rhum Punches!); the Musee du Pantheon National Haitien, a small but powerful museum that really explains the history of the country and gives you a new perspective of what Haitians have gone through; the Iron Market, an open-air market with everything from Vodou objects to food to jewelry (I got the cutest gold bracelet there for $2!); and the Observatoire for a beautiful sunset dinner overlooking the city.
About the author: Breanna Wilson is a freelance travel writer who documents her adventures on her Instagram and Twitter under the handle @breannajwilson and on her blog BreannaJWilson.com. Follow her for more travel tips and advice.
This post contains references to products from one or more of our partners. We may receive compensation when you click on links to those products. For an explanation of how ABN works, visit this page.
Featured Vendor

Get Hertz Discounts
Subscribe to Our Blog!
Like Us On Facebook