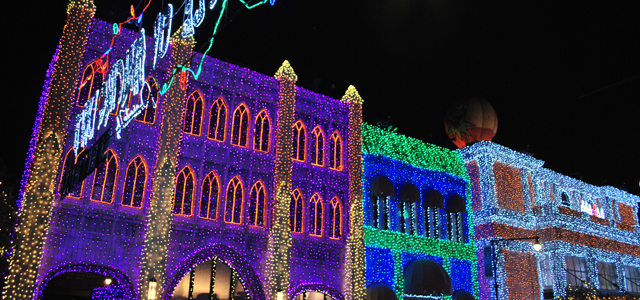 Discover Disney's Dancing Lights This Holiday Season
It's your last chance to see it: more than 5 million lights choreographed to holiday music on a scale only Disney could do. Walt Disney World's 20-year tradition, the Osborne Family Spectacle of Dancing Lights, celebrates its finale this year.
Beginning at dusk nightly through January 3, 2016, the Streets of America in Hollywood Studios (Orlando, Florida) dissolve into twinkling lights and fluttering snowflakes. Colorful forms take shape in the air — angels, reindeer, Christmas trees, a spinning carousel and a giant globe with the words "Peace on Earth" spread above it.
Every 10 minutes the lights dim briefly and then re-awaken to dance in time to classics like
Jingle Bells
or the iconic melodies of the Trans-Siberian Orchestra.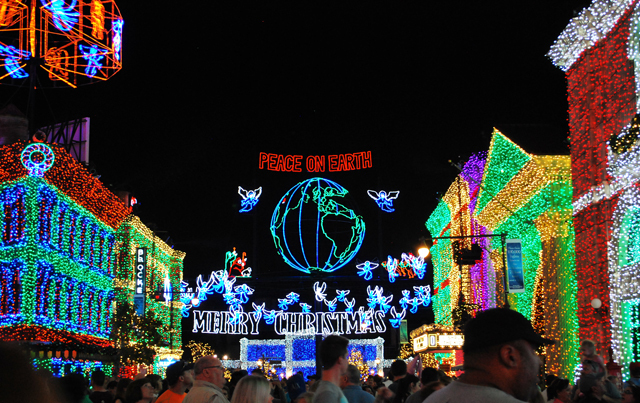 Go All Out
It's plenty fun to explore the lights just wandering the streets after dark, but if you really want to celebrate in style, book a seat at the Merry & Bright Dessert Party. The cost ($69 for adults and $39 for kids) includes a commemorative blanket, a buffet of sweets, drinks and a reserved spot to see the display.
The dessert party is available on select evenings through December 30. In 2016, the Merry & Bright Dinner Reception takes its place. For just three nights, you can kick off the New Year with a holiday-themed feast of shrimp, beef, turkey, sides, desserts, specialty drinks and more. You still get a good view and your keepsake is upgraded to a shadow box with an Osborne Family Spectacle bulb.
Tips to Know
The streets will be crowded. You can expect throngs of people to join you in wishing farewell to Disney's greatest light show, especially on the days around Christmas and New Year's. In general, the later you stay, the thinner the crowds, and since the show typically continues even after park attractions shut down, you'll still be able to see it all in an hour before closing.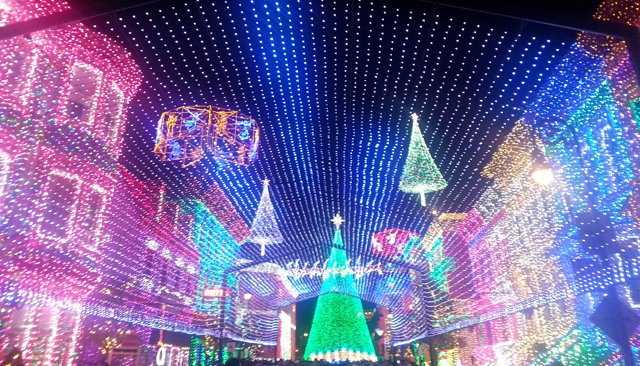 To capture the magic in a photo, look for Disney photographers set up in the best spots. They'll take a photo of you with their camera that you can buy later, but they'll also gladly take the same picture with your camera — and as you can imagine, they do a great job.
If you're a shutterbug yourself, you'll love the spectacle. The lights are bright enough that the camera on your phone or any point-and-shoot can capture good shots.
The Story that Started It
The Osborne story is a heartwarming one. It begins with a 6-year-old girl in Arkansas making a Christmas wish to see her home covered in sparkling lights. Her dad, Jennings Osborne, made that wish come true — a little more every year — eventually topping a million lights each Christmas.
When neighbors complained and they were forced to shut it down, Disney stepped in to save the day and share the Osbornes' family tradition with the world. The story continues with truckloads of Christmas lights, traveling from Little Rock to Orlando, for their Disney World Debut in 1995.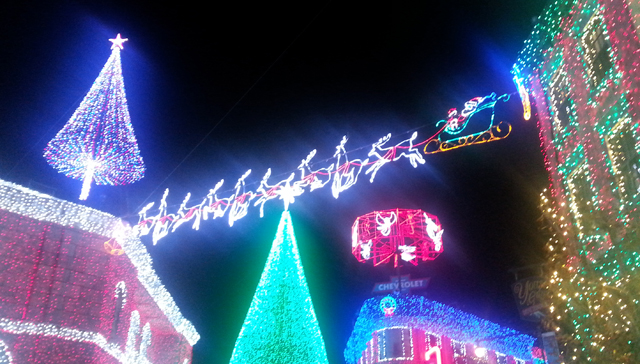 The happy ending to the story is the one we all know: the beloved Osborne Family Spectacle of Dancing Lights. The show has welcomed millions of visitors over the past two decades, including Jennings Osborne himself many times with his family.
With a story so sweet, why are the lights finally going dark? Disney is making way for new attractions, including Star Wars and Toy Story lands.
About the Author: Cheryl Rodewig is a storyteller and creator — for brands (content marketing) and her life (travel). See more of her travel stories on Twitter at @cherylrodewig or online at cherylrodewig.com.
Featured Vendor

Get Hertz Discounts
Subscribe to Our Blog!
Like Us On Facebook