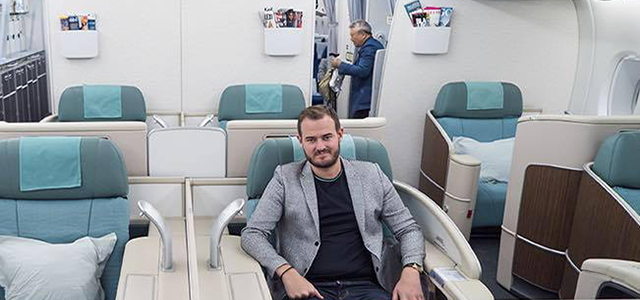 7 Money Saving Travel Blogs to Follow
They say that travel is the only thing we invest in that makes us richer. There's really no price tag for amazing experiences. That said, it still costs to fly and do anything worthwhile. But don't worry, we've collected seven authorities who can help you take that dream getaway for less and enjoy your time away without breaking the bank.
1. The Points Guy
Brian Kelly, a former investment bank recruiter, learned to make the most of his frequent flyer miles and points and began sharing his knowledge on his website,
The Points Guy
. Learn about which rewards programs provide the most benefits, how to avoid airline cancellation fees and insider tricks for racking up extra points by shopping and liking Facebook pages. Consult his "
Beginner's Guide
" for loyalty programs and credit cards to get started.
2. Solo Traveler
Budget travel can be challenging for single travelers, with hotels and tours charging double rates or mandating a supplement fee.
Solo Traveler
is dedicated to people who love to go away alone, run by seasoned travelers Janice Waugh and Tracey Nesbitt. Their blog publishes an
Advisory of Deals
to which you can sign up for free, to receive the best and cheapest options with no or low single supplements. This informative website offers advice on solitary vacations to the best destinations for singles.
3. JohnnyJet.com
Johnny Jet
is a travel guru who has been around the world several times, so you can trust that he knows his stuff. Sign up for his weekly newsletter for insightful tips on airlines, hotel reviews, trends, travel gadgets and great deals. You can also search and compare flights directly on his website. Follow him on social media for his travel tip of the day and exciting contests.
4. Nomadic Matt
Matt Kepnes, aka
Nomadic Matt
, has been traveling the globe for over a decade, penned three guide books and has created one of the best budget travel blogs. His motto is clear: "Travel better. Cheaper. Longer". Matt's
Ultimate Travel Hacking Guide
gives you guidance on how to find low cost flights and book reasonably priced accommodations. For the first chapter of
How to Travel for $50 a Day
, click
here
.
5. Frugal Traveler
New York Times columnist Seth Kugel is known for living the first-class lifestyle on budget prices and sharing it in pieces such as, "A $1,000 Day in London for $100" and "On the Beach, on the Cheap, in Mozambique." In his
articles
, you will find help on discovering inexpensive flights, off-the-beaten path adventures, low-cost lodging and dining, and picking the best cell phone plan abroad.
6. Traveling Mom
Family travel can seriously add up if you aren't careful with your budget. Thanks to Kim Orlando, who started
Traveling Mom
, you can now receive recommendations on fun-filled family vacations, suggestions for kid-friendly places and free things to do in all 50 States. Fellow travel writing moms contribute to the site, so you know you are in good hands. Sign up for their newsletter or bookmark the site for pointers on how to save on tickets at Disney Parks, deals on child-friendly hotels and the best ways to make the most of your family-oriented adventure.
7. EuroCheapo
For over 15 years,
EuroCheapo
, started by Tom Meyers, has been devoted to recommending the best budget hotels in Europe. If you're looking for a centrally located hotel that's affordable and impeccably run, the editors of EuroCheapo have already done their research and can provide you with the best options available. Articles on the site offer tidbits for dining, shopping and sightseeing in various European cities.
We hope you have a great time, spend less and plan more trips with these sites in your travel arsenal.
Main Image Photo Credit: Facebook/ThePointsGuy
About the Author: Lavanya Sunkara is a writer based in New York. Her love of adventure has taken her all over the world from Australia to Zanzibar. When she's not traveling, she's hiking with her dog, and planning her next getaway. Follow her on twitter @Nature_Traveler. Read her articles at www.nature-traveler.com.
Featured Vendor

Get Hertz Discounts
Subscribe to Our Blog!
Like Us On Facebook