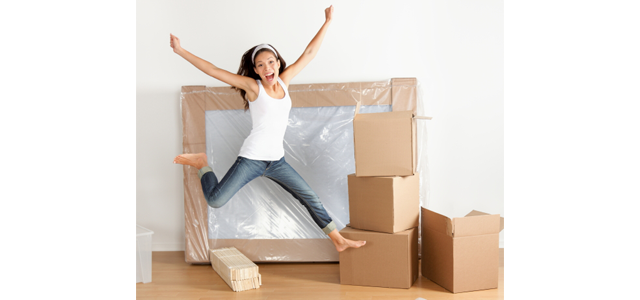 5 Tips to Ease Your Move into the Dorms
If you are one of the projected over 22 million students preparing to head to college this fall, odds are you have a lot on your plate for the upcoming months. Between the preparing, packing and moving process, a lot of students and parents alike feel overwhelmed during this busy time.
Adjusting to life away from home can be lead to an endless amount of emotions, leaving you both excited and nervous at the same time. Whether you are moving across the country or staying a bit closer (but not too close) to home, planning carefully can help ensure you save time and money with your move. Here's a quick list of tips to help you while you move into the next chapter in your life.
1. Plan Your Move with Lists.
Making a list of all your needs will help you avoid that last minute push to get everything in order for your big move. Making a list will not only help to keep you organized, but can also help to prevent you from leaving any important items behind. Many schools offer a suggested list of dorm essentials, comparing your final list to theirs may help you avoid bringing items the school provides or forbids.
2. Sort Out What You Need.
Sorting through your belongings and finding what you actually need can help save space in both the moving process and your dorm. Before you even begin to pack, consider what you will really need versus things you would like to take. This will not only help you stay organized, but will keep you from over-packing. Be certain to pack these essentials before packing items that would be "nice to have." Keep in mind that you'll likely be away from home for anywhere between 3 to 6 months, so pack seasonally and exchange what you need while you are home during semester breaks
3. Don't Forget Your "Survival Kit."
Pack all of your "first night essentials" into a labeled Survival Kit. This survival kit can save you time digging through other boxes and suitcases while trying to find your "must-haves."  Additionally, throw some useful tools such as a hammer, removable adhesive strips, utility knife, tape and a screw driver in there to help with any decorating needs.
4. Buy Things There.
A lot of students make the mistake of buying their school supplies or bulky dorm furnishings before they arrive to school. By waiting a few days after you arrive to your new home, you can save space while packing and coordinate dorm décor items between yourself and your roommates. Many times, students find that the items they bring along on their move aren't actually needed and just create clutter within an already cramped dorm.
5. Rent a Truck of Van.
Renting a truck or a van can help minimize the costs while maximizing your space during your move to college.  Available in several convenient sizes, a moving truck or van from Budget Truck Rental can help you get all of your stuff as far as you need to go no matter how much you need to bring. If you have a friend going to the same school, consider splitting a rental for the ultimate end of summer road trip.
Whether you a freshman headed off to school for the first time or a seasoned dorm move-in pro, these tips can help to ease your moving process. Have any more tips for a college move in? Share your comments with us below!
Featured Vendor

Get Hertz Discounts
Subscribe to Our Blog!
Like Us On Facebook