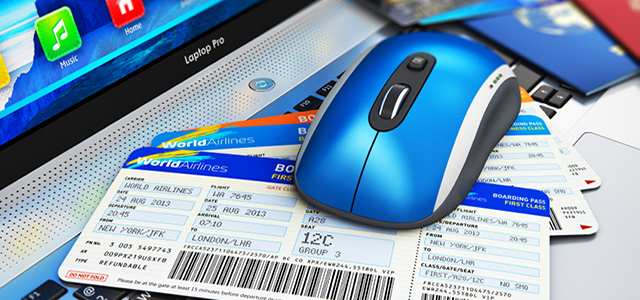 8 Price-Slashing Tips for Better Business Travel – White Paper
Keeping your business on top takes a lot more than what it used to. While in the past keeping your team local and close-by was the norm, the increasing interconnectivity and mobilization of the business environment has made it essential to keep your team out of the office and on the go to oversee operations, attend meetings and close potential deals. That being said, the average business
spends roughly $1,000 per travele
r for every domestic business trip, with international affairs approaching $3,000 per person! While traveling from meeting to meeting is nearly non-negotiable, these out of office affairs don't have to come with such a large price tag. Follow along as we explore some of the top savings strategies to cut costs on your next business trip!
Tip #1: Take Advantage of Travel Promo Codes and Discounts
The internet is filled with sites offering travel and flight promo codes, special offers and exclusive membership discounts. When you're looking for ways to cut back on the costs of your upcoming business trip, searching for these travel coupon codes is a good place to start.
Tip #2: Earning Elite Flyer Status
If you find your team jet-setting across the country on a routine basis, one of the best ways to get ahead and start saving on your business trips is to enroll your business in an elite flyer program. Even if your team isn't flying thousands of miles each year, you can use an airline sponsored credit card to earn travel miles with every purchase to help you save a little more on your travel budget.
Tip #3: Keep an Eye Out for Those Last Minute Airport Upgrades
Sometimes the best airline deals are given just days before your trip. Generally speaking, unsold business class tickets are released six hours before takeoff, allowing your team to take advantage of some steep savings when it comes to upgrading their travels and staying productive in the air.
Tip #4: Cheaper Flights From Co-Terminals
One of the best ways to save on your travel costs is using an airlines' co-terminals. All of the major airlines have these co-terminals set up all across the country. While booking, these co-terminals feature different fares, but these flights can be switched using a "same-day confirmed" at the airport to take-off for your desired destination without any extra expense on your end.
Tip #5: Find Discount Hotels
Airlines aren't the only opportunity you have to save on your business travel costs, as hotels can prove to be even more pricey than airfare under some circumstances. When booking online, keep a sharp eye out for any
hotel discount codes or
promotions that can help make your money last longer.
Tip #6: Arrange Phone & Internet Services
Staying connected while your team is on the go is crucial if you're looking to keep your business ahead. Arranging for a hotel with a fully stocked business center or in-room Wi-Fi can help you keep costs down while avoiding any extra data charges.
Tip #7: Make Technology Your Ally
Much of the hassle and stresses of travel can be easily avoided or even removed if you have the right technology on your side. Many airlines and hotels offer apps that easily store all of your boarding passes, booking information, itineraries and check-in information to help keep you moving without having to track down different papers and receipts during your trip.
Tip #8: Pack Smarter!
Long security lines, small overhead compartments and extra baggage fees can all be avoided with some smarter packing techniques. Knowing how to pack your back will not only keep you moving through security lines with ease, but it can also help you avoid costly extra or overweight baggage fees on your flight. Don't let travel costs come between your business and success, start slashing the price of your business travels by signing up for the exclusive travel discounts and coupon codes from Allied Business Network. Since 1997, ABN has helped hundreds of thousands of companies and individuals save on their most costly purchases through their never-expiring, no limitation promo codes and coupons. Best of all, signing up for your exclusive membership is free and easy, providing you with endless resources to help grow your business's bottom line.
Sign up for your free membership
today and start on your way to smarter saving with help from ABN.
Featured Vendor

Get Hertz Discounts
Subscribe to Our Blog!
Like Us On Facebook