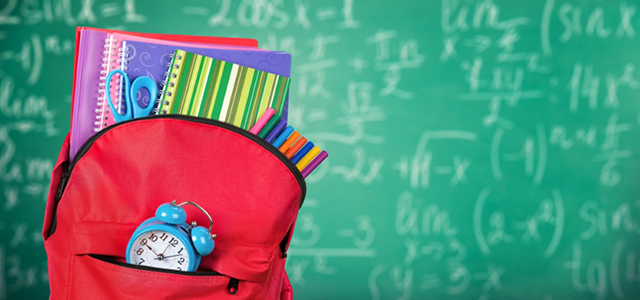 Savings Strategies for Back to School Shopping
Each new school year brings an opportunity to start the year off right with exciting new school supplies purchased at excellent prices. Smart shoppers know that if they are careful and plan ahead, they almost never need to pay full price at back-to-school time. Anyone looking to save extra cash can find plenty of sales, shopping discounts, and promo codes and coupons, both in stores and online. Here are some excellent ideas that will help you save money when you are ready to begin purchasing your school supplies.
Decide What's Needed
Before you begin to shop, take time to look through what you already have on hand. Once you take stock of your inventory, then you can determine what types of supplies to buy. Do you need special items for certain classes? Do you already have some of the basics? Do you need to restock certain items? Are the items on hand in good shape or do they need to be replaced? If they can't be repaired, now is a good time to replace them, since many items will now be on sale. Next, make a list of what you have in your school supplies cupboard. On the list, note which items are in good shape, items that need to be replaced and include any new items that will need to be purchased for the very first time. This will be your master shopping list. It is a valuable tool, so carry it with you whenever you go shopping.
Determine a Budget
Know your budget beforehand. Setting a budget will help keep you on track. Using your shopping list, estimate each item's cost. You may be able to find them for less, but for now just estimate. Once you begin shopping for back-to-school items, keep a running total of your purchases to avoid spending over your allotted budget. Keep all your receipts in a file folder, box, or envelope that's visible on your kitchen counter. Continually tally what you've spent so that you stay on track.
Coupons, Promo Codes and Sales
Look for extra cash-saving store advertised sales, coupons, and promo codes in your home's mailbox, in your email inbox or search for them online. You can also find then in newspapers, flyers, magazines, and by word-of-mouth. Familiar offers that you may see include a percentage off of your total purchase, buy one/get one free, and buy one get a percentage of the other. Other types of deals are offers to save a percentage off just one item or save a certain amount dollars if you spend a certain amount of dollars. Or, you might also see opportunities for early-bird preview sales, special one-day sales and limited-hourly sales, such as 3 to 4 hour sales. Perhaps you can't take advantage of all the coupons, promo codes and sales out there, but even if you only use a few, you can save a bundle of money with very little effort on your part. All you need to do is pay attention to what is sent to your mailboxes or do a little bit of research.
Search for Reliable Store Discounts
Keep an eye out for stores that are well known for their excellent back-to-school deals. For example, look for a Office Depot promo code or Office Max coupons. The shopping discounts these stores offer can save you a great deal of money and are usually very easy to find.
Price Matching
If you find an item that you like in a place that has higher prices, look for price matching. Price matching is when a store agrees to match another store's price for certain products. If you can't find the store's price matching terms or if it is not apparent they offer this feature at all, ask a clerk or store manager for details or send an email to the company if the store is online. Price matching does usually have limitations. Oftentimes the items will need to be the same brand and size as advertised at the other store. And, sometimes they may require proof of the other store's price, so you'll need to provide an advertisement, flyer or a receipt to prove the pricing.
Do Your Homework
Certain stores only allow customers to take advantage of one type of promotion or sale. For example, if you use a coupon for 50% off one item, you may not be able to use it with the 10% off coupon for all your items. However, some stores don't have those rules. For those types of stores, if you can time your shopping excursion to use a 20% off coupon on an early-bird preview day, you could potentially save a lot of money. However, you do need to check ahead of time to make sure it's okay to combine the offers.
Buying in Bulk
Sometimes buying in bulk can save a lot of money. However, that is not always the case. Most of the time, it is wise to only buy in bulk if you are staying within your budget, and if you're sure it's a good, solid deal. You can usually measure a good deal by the price per unit. Oftentimes stores will do the math for you by breaking down the price per unit and showing it on the shelf sale tag. But, in case they don't, carry a calculator with you so that you can break down the cost yourself. Make more out of every dollar you spend this back to school season with a little help from the exclusive promotions and discount coupon codes from Allied Business Network. With over 1,000 partners in their network, ABN is able to offer members never-expiring, no hassle savings on all the latest back to school must-haves. Sign up for your free ABN membership today for instant access to all the latest promo codes and office supply discounts, and get your child ready for back to school in no time at all.
Featured Vendor

Get Hertz Discounts
Subscribe to Our Blog!
Like Us On Facebook