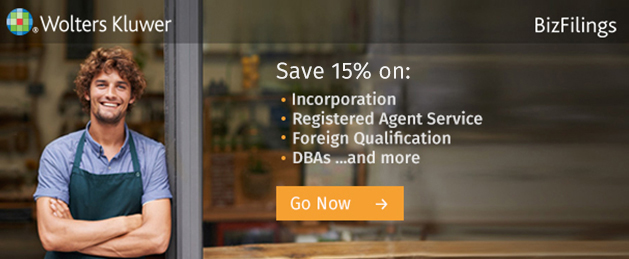 Save 15% On Services To Help You Manage Your Business
It's an exiting prospect, but for many business owners, the process of incorporating a business and getting all the necessary licenses and certifications is intimidating. As big supporters of America's businesses, we're excited to tell you about BizFilings.
BizFilings is the online incorporation provider of choice for more than 500,000 businesses and entrepreneurs across the U.S. Built by entrepreneurs, they offer a range of services and provide you with the information and resources you need to establish your business entity the right way:
Business Incorporation
Business Naming
Foreign Qualification
Business Licensing
DBA
Registered Agent Services
And more!
BizFilings has been a member of the Better Business Bureau since 1997 with an A+ rating. As an Allied Business Network member, we're excited to offer access to BizFilings services at a 15% discount.  To take advantage you can access the discount at BizFilings.com or by mentioning the specific ABN Partner code CP3030 when placing an order. 
Featured Vendor

Get Hertz Discounts
Subscribe to Our Blog!
Like Us On Facebook