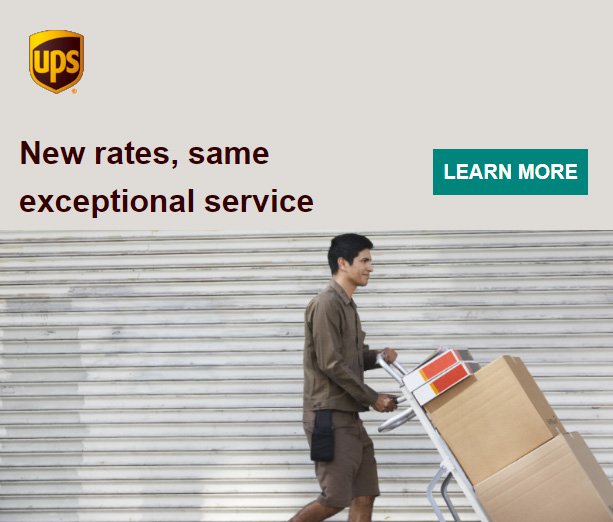 UPS Took the Guesswork Out, and Put the Easy In
ABN members now have access to new and improved flat rate pricing - no matter how much you ship, when you ship, or where it's going.
Members-Only Savings Include:
10%* on UPS Next Day Air
45% on Domestic Next Day / Deferred 
25% on Ground Commercial / Residential
International: 50% on Export / 40% on Import / 25% Canada Standard
Savings begin at 75%* on UPS Freight Shipments over 150 lbs.
In addition, members can take advantage of UPS Smart Pickup services for free.
Open a new account, or if you are already taking advantage of our UPS savings program, re-enroll and apply the new discounts to your existing account by visiting www.savewithups.com/abn or call 1-800-MEMBERS (1-800-636-2377), M-F 8 a.m. - 5 p.m., ET.
*Visit www.savewithups.com/abn for specific services and discounts.
Receive enhanced protection.
Minimize financial setbacks with insurance through UPS Capital Insurance Agency, Inc., by protecting your shipments.  Members can save up 17% over their current declared value and get broader coverage in the event of a loss or damage.  There is no fee to signup and charges are incorporated automatically into your UPS invoice.  Simply enter the value of your goods in the declared value field of the shipping system.
Call: 1-800-MEMBERS (1-800-636-2377) M-F 8 a.m. - 5 p.m., ET. to confirm your participation.  Click here for additional information.
Print and produce a wide variety of marketing materials online.
The UPS Store; provides members with quick, affordable and effortless digital printing solutions with easy online ordering and expert customer service.
First time users, visit: meridianone.upsstoreprint.com/offer/abn
Returning users, visit: meridianone.upsstoreprint.com
Featured Vendor

Get Hertz Discounts
Subscribe to Our Blog!
Like Us On Facebook